Classic design meets modern styling in today's version of roman shades. With contemporary fabrics and customizable features, you'll love the soft, sculpted look of roman shades, with the versatile control of window shades. And we have one more reason to love romans! Our Solera Soft roman shades were created with affordability in mind. Looking for smart style at an amazing price-point? You're gonna love these shades.
#1 The Streamlined Look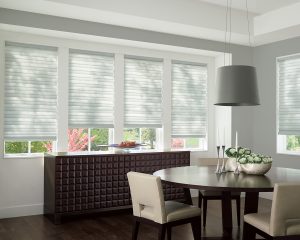 Flowing folds of fabric, available in the industry's most popular colors, will enhance the decor of your home. Choose the luxury of woven or non-woven materials highlighted by rich-looking textures. And add upscale light control with a range of opacities, from light-filtering to room-darkening. Set the right atmosphere in every room as you customize your roman shades with style choices that fit the design and function of each space.
#2 Comfort Is King
It's your home–your sanctuary away from the world. You should be able to relax and be comfortable. Layers of fabric offer you the comfort you are looking for: Privacy, Light Control and Energy Efficiency. Adjusted easily, the privacy and light control of your roman shades means you can have both with one simple operation. The temperature in your Chicago area home will maintain, as the layers of fabric both block out direct light and provide a layer of insulation at your windows. And you'll be comfortable for years to come, with the UV protection provided by Solera. Your furnishings won't experience the wear and tear that comes without this valuable protection.
#3 Convenient Operation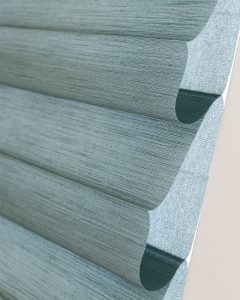 Available with a selection of operating features, you can customize your roman shades to function in ways that will suit your lifestyle. One of our  favorites is top-down bottom up, an innovative feature that allows you to  bring in natural light at the top of your windows, while the temperature, privacy and amount of light remain in your control. The ultimate control of your shades comes with PowerView motorized shades. With the touch of a button, on your remote or favorite device, you can achieve instant control and the perfect adjustment every time.
#4 Child-safe, Pet-safe
The most important part of choosing new window shades is keeping safety in mind. With today's safety ratings, there's no reason you shouldn't rest at ease with your children and pets playing freely in your home. Available in both cordless and cord-safe options, you won't believe how easy it is to gain the peace of mind you need and deserve. It actually improves the function and look of the shades. No dangling cords means a clean, uncluttered appearance on top of that valuable peace of mind.
#5 Affordability for Your Budget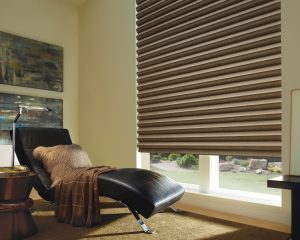 We mentioned the affordability of Solera Soft roman shades. Have we mentioned why? Hunter Douglas knows that sometimes you just can't afford the top-of-the-line customization that comes with most of their window shades. But they aren't willing to sacrifice quality. So they discovered a way to offer just what you need–with the high quality features and materials Hunter Douglas is known for. It's the streamlined selection of fabrics that allows them to give you the affordability of these beautiful romans. It's the perfect combination of smart design and cost-savings.
Ready for Solera Soft Roman Shades?
With so many reasons to love Solera Soft roman shades, are you ready to get started? It's upscale style and amazing features meets classic design and the ultimate control. Our team will help you select the lifestyle upgrades that will make the most of your Chicago area home. Contact our team, at Skyline Window Coverings, for a free, in-home consultation today.