Can you believe there's only a few months left in 2017? The days are flying by, and we've loved every minute of this year's bedroom trends. Which style speaks to you? Take a look and the hottest designs so far and find ways to incorporate your favorites into your home.
Keep It Simple
Minimalism and simplicity in design has become popular, especially with bedroom trends. There's nothing better than clearing your mind after a long day. We know it can be difficult to relax when there's so much on your mind. Creating a calming sanctuary will help to ease the stress of daily life. You'll fall asleep in peace, and wake up in a clean, de-cluttered environment. Simplify your life with a minimalistic design.
Wallpaper
With the latest bedroom trends, you can bring in a touch of personality, added luxury, and even more style, especially with this trend! Wallpaper is back in the design world, and it's even better than before. With the latest styles, like metallic prints, or traditional florals, you'll create a design of your own. Incorporate your personal favorites into your bedroom design.
Incorporate Wooden Elements
One of the top bedroom trends of 2017 is all about wood. Wooden accents add a chic, farmhouse style to your bedroom decor. Shiplap accent walls, or wooden planks that appear distressed like the wall pictured here, have become a huge trend. Have you seen it on HGTV? And, it's super simple to create a modern design with shiplap accent walls. Try it with smaller elements to make your design unique.
Go Green
If you haven't heard, Greenery was announced as 2017's color of the year, so of course it's made it's way into this year's biggest bedroom trends! The natural, yet vibrant, hue brings in more than just a pop of color. It's rejuvenating and fresh, which is perfect for the place you start your day. Cleanse the air in your room with potted plants, incorporate accents with your favorite hue of green, or go big and paint the walls! The smallest touch will make the biggest difference.
Layers & Layers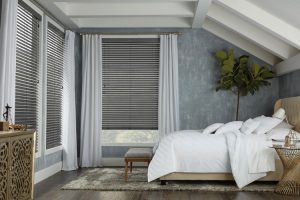 Layering has become one of the top bedroom trends of 2017, and for great reason! Layers add dimension, luxury, and function to your room design, leaving you with a cozy and convenient space to rest. Add dimension to your windows with roman shades or, from our newest collection, Designer Banded Shades. Bring in even more style with drapery panels. It's all about comfort, so find cozy bedding, soft blankets, and your favorite pillows to create the ideal bedroom.
Top Bedroom Designs of 2017
Which of the top bedroom trends from 2017 is your favorite? Do you love them all? We'll help you design the perfect sanctuary. Wake up refreshed and go to sleep relaxed. Let our team help! We can show you how to gain control of your bedroom's environment with the right blinds, shades, or shutters. Get a good night's sleep with room darkening window coverings, or simplify your life with automated shades. Contact our team at Skyline Window Coverings for a free, in-home consultation.