The window covering world is welcoming brand new products, and we're here to show you the newest products from Hunter Douglas. The latest innovations have taken window treatments to a whole new level. Love design? You'll adore the geometric twist to one of our classics. What about incredible features, like motorization, child safety, and energy efficiency? It's all here. Take a look.
Stylish Patterns, Sleek Lines: Designer Banded Shades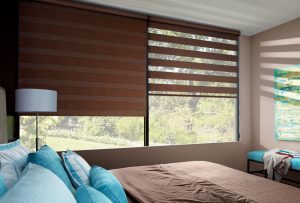 If you love designer style, this will be one of your favorite newest products. Hunter Douglas Designer Banded Shades are incredibly stylish and simple to use. Considered part of the roller shade family, this shade offers easy function with the look of premier shadings. They are made up of two fabrics, sheer and opaque, for an adjustable ambiance.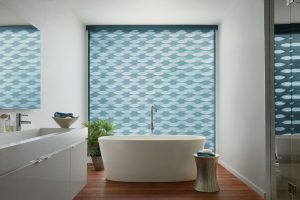 Take your pick from gorgeous, geometric patterns or neat, sleek lines. Let the opaque fabric back the sheer fabric for privacy and light control. You can even choose a room-darkening fabric. Open the view and let filtered light illuminate your room with a simple adjustment. Controlling your environment just got easier…and way more stylish.
Roller Shades + Honeycombs: Meet Sonnette Shades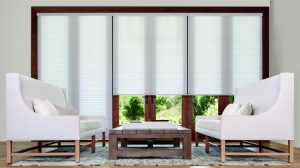 Honeycomb shades offer a designer look with their dimensional fabrics, plus they're energy efficient. Roller shades are known for their simple operation, and their ability to make your windows look like a stunning backdrop. What if these two amazing products combined? Well, Hunter Douglas has done it with one of their newest products.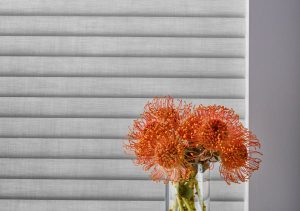 Meet Sonnette shades. Gorgeous style, incredible innovations…you get the best of both worlds with this shade. This new collection will bring in the dimension and energy efficiency of honeycombs, as well as the simplistic function and sleek design of roller shades. It's everything you've ever wanted wrapped into one amazing window treatment.
The Latest Child Safety Innovations: SoftTouch Operating System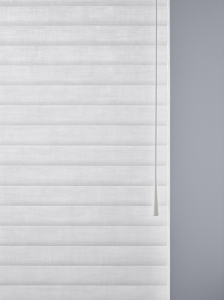 Cordless innovations have been one of the main focuses for window treatments. Child safety and pet safety are top priorities of Hunter Douglas, as well as Skyline Window Coverings. Your home should be a comfortable place for your loved ones, and the newest products are making it easy to ensure their safety. SoftTouch is the newest operating system. The wand is attached to a magnet on your window treatments. With a gentle push or pull, your window treatments will automatically adjust. If the wand is pulled with force, it will detach from the magnet, leaving your window treatment in place & loved ones safe. Don't deal with dangerous cords; add safety and convenience to your home with SoftTouch.
See the Newest Products
If you want to see the newest products in person, we'd love to show you. The incredible style, environment control, child safety, and latest innovations will enhance your home design. Which product are in you interested in? Let our team show you in the comfort of your home! Contact us at Skyline Window Coverings for a free, in-home consultation.