It might surprise you…
Home improvement stores have been uncharacteristically busy in the last couple months. I can speak from experience: I have bought more cans of paint this winter than I have since we purchased this home. With the recent, and continued, ridiculous winter upon us, the challenge of being cooped-up inside four walls has proved to be too much. Like any other completely bored out of my mind, Chicagoan, I have spent time staring at my walls, searching Pinterest and Houzz for ideas of change, excitement and trending statements. You know what's trending? WALLS. That's what I love about social media. With the weather, and my mood – for the record, teetering just above zero for weeks on end, I have come to the realization that I am not alone. Everyone has been staring at their own walls, thinking the same thing. It is time for a change. And walls are what is trending this spring…how to make them pop, how to highlight your design, how to showcase your style. Walls, walls, walls. So what are we going to do about it? Here is a short list of projects to put a new twist on your walls – filled with style, sophistication and inspiration.
Paint – I know obvious…

As simple as that. A fresh coat of paint will do wonders for a space. It can change the mood and atmosphere of the entire room. Further inspiration tells us that highlighting your walls with a pop of color can bring out your personal style. Accent a wall with a trending color. Heighten your design with some stripes to create an omnipotent presence. Here are some of 2014 Spring Color Trends from Pantone.
Update – Make some changes
Perhaps you have enjoyed the reminiscence of days gone by as you stare at the pictures hanging from five, ten, twenty years ago. While it is lovely to cherish those memories on display, it is time to enjoy what you have been up to lately. Decide whether you want to exchange photos out, or just add more frames to the showcase. Updating those photos of memorable times in recent history, along with the act of going through picture files, will make you smile.
Art – Mix it up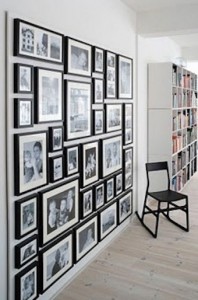 Take this opportunity to mix it up. Exchange locations and take note of how it can alter the mood of a room. I did this last week with two pieces, and I instantly wondered why it hadn't occurred to me sooner that they both look so much better after switching spots with each other. You may find, upon reevaluation, that you are not as fond of a piece that you once loved. There is nothing wrong with that. Take it down, and go in search of a look that suits you now. Change is good.
Collections – Showcase Life
All you have to do is look at any of the trending statements for walls, and you will see that people love outstanding collections. Photographs in black and white, floating shelves with favored pieces, or identical frames for all photos can be seen as you search for wall displays. Use your own personality to design a collection that is beautifully and uniquely YOU.
Windows as Art:
Making your walls stand out. Nothing speaks volumes of a room more than your windows. The window treatments you select will provide atmosphere, mood and light control, not to mention – privacy. With the oppression of the winter cold upon us, take this opportunity to dress the windows in such a way that improves your frame of mind and enjoyment of your home. Soft, filtered light entering your home, along with energy efficiency to provide warmth and comfort are just a few of the benefits. Innovation, style and sophistication will deliver the fresh, clean look you need.
Even though the weather report may be bleak, your home's ambiance doesn't have to be. The amazing thing about living in Chicago is that we are able to enjoy all four seasons. Enjoy them, even when you can't go outside with new window treatments. Let the professionals of Skyline Window Coverings be your guide as you discover how to highlight your personal style and display inspiration to showcase those walls.