If you're a homeowner, you know that your work is never truly done. Homes need updating, and there are constant decisions to be made. Creating the right atmosphere in your home is the key to happiness, and we believe that this starts at the window. But, disaster strikes when you don't have the right solutions. Sheer shades are versatile, fitting your style preferences and lifestyle needs. What happens when you don't have the right window coverings? Take a look…
Drapery Disaster
Draperies are gorgeous and elegant. They add style and function to a space, but wait…this design is a disaster! The room is beautiful; it seems big enough to entertain guests–the perfect space to spend an afternoon with a good book. But, with these issues, nobody can enjoy this room.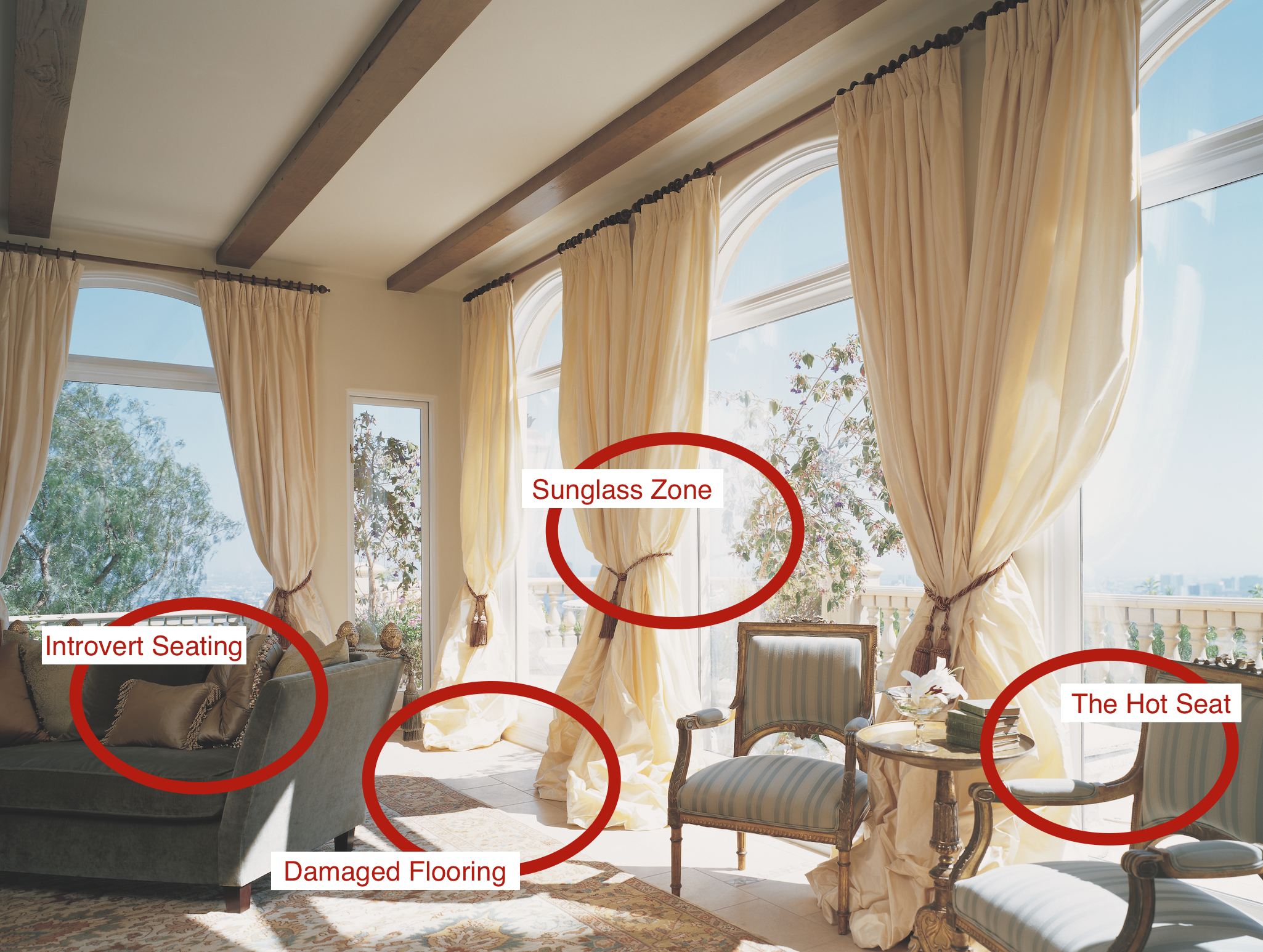 The Hot Seat
Wouldn't you love to sit here with a magazine or novel? The natural light would be all you need to enjoy your book. Well, the bare window would make it hard to relax. The sunshine is pouring through, causing glare and uncomfortable heat.
The Sunglass Zone
This home has a gorgeous view, but guests would be reaching for their sunglasses in order to take it all in!
Introvert Seating
There are areas of this room that have too much light, and then some that don't have enough light. Take a look at the couch! You'd need artificial lighting for this area. Plus, whoever sits here won't be able to partake in conversation–they'll be too busy squinting from the harsh glare.
Damaged Flooring
The furniture and rug will be damaged from the UV rays. Enough said.
Sheer Shades Save the Day
Soft lighting, privacy, and style. What a relief!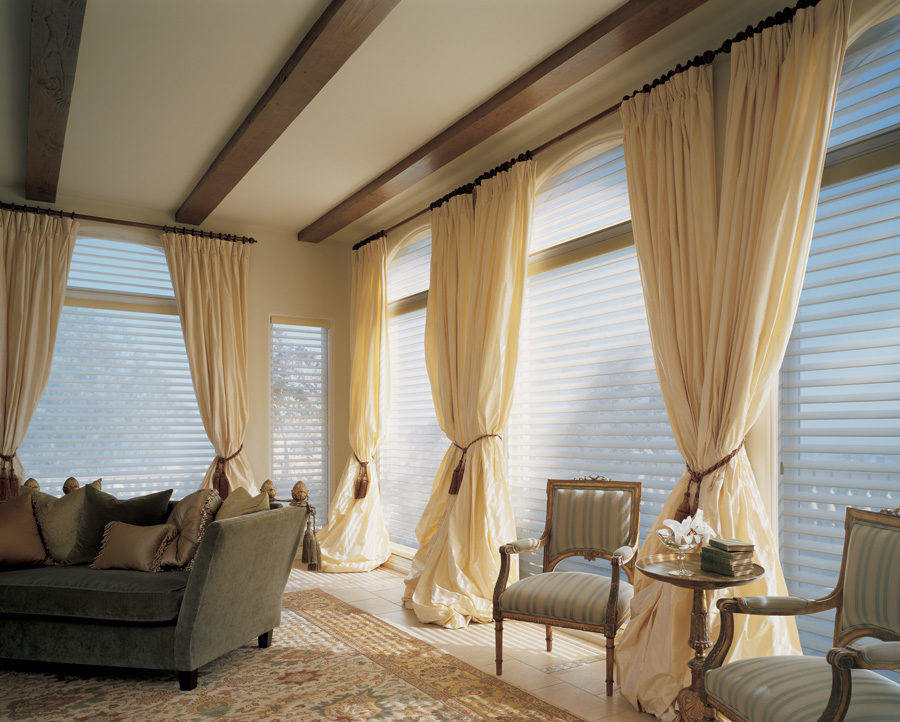 This looks like a brand new space. The sheer shades control the incoming light, filtering it for just enough daylighting and keeping glare and heat at bay. This is a great spot to enjoy a good book or host a get together.
Open Floor Plan Solutions
Open floor plans are popular in today's homes. They're often the most-used rooms in the house, meaning they need to function differently at one time. Sheer shades can provide the right solutions for multiple needs. They're versatile, so you can set up the right environment depending on your space.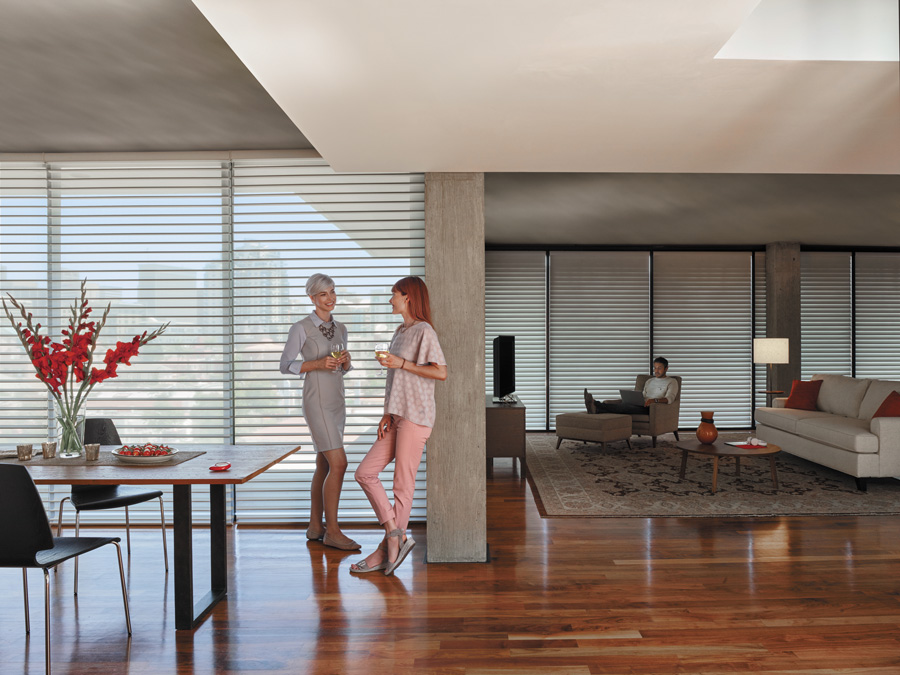 The floating vanes are open in the dining space, making it easy to entertain with natural lighting. The media room needs to stay dim & glare-free, so the vanes remain closed. No matter what the situation, sheer shadings make it easy to control the atmosphere. Bring home even more convenience with smart shades. Adjust at the touch of a button or create a set schedule.
Need a Good Night's Sleep?
Sheer shades can make that happen. With the latest innovations in window coverings, you can have all the benefits of sheer shadings, along with blackout solutions for a good night's sleep.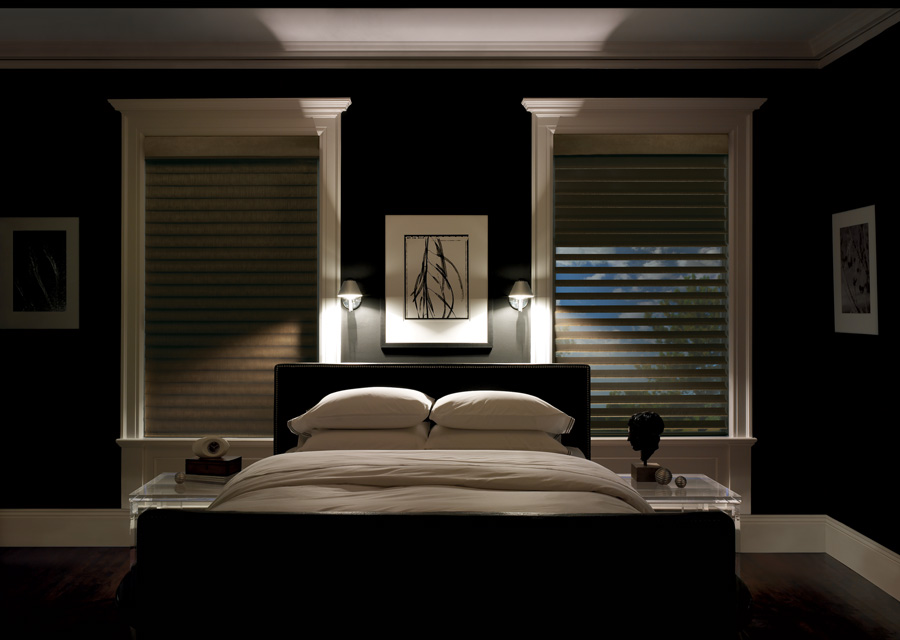 Dual systems add a secondary roller shade, available in blackout, that operates independently. Have large windows or doors? Luminette Privacy Sheers go from sheer to blackout with a quick rotation. Get the solutions you need with sheer window treatments.
Don't Wait Any Longer!
You deserve a home that fits your lifestyle. Sheer shades make it simple to control your light, privacy, and overall ambiance. We want to help you find the right solutions for your home. Contact our team at Skyline Window Coverings for a free, in-home consultation, or come visit our studio. We can't wait to get started!