Have you ever caught yourself typing "how to get rid of glare" into your search bar? If so, you're not alone! There are so many people who have glare issues in at least one room in their home. It's especially noticeable now, with screens being such a big part of our lives.  You want the solution to this problem, and the answer is window coverings. We've got an amazing before and after to help show you how you can rid the glare in your own home. 
Sound Familiar?
The bright light flooding in just seems to cover every inch of the room. All the squinting you have to do just leaves you with a massive headache. And, forget trying to scroll through your iPad, you can't even see the screen, the glare is so intense. Moments like these are exactly why you're not alone in searching for a solution to rid the glare.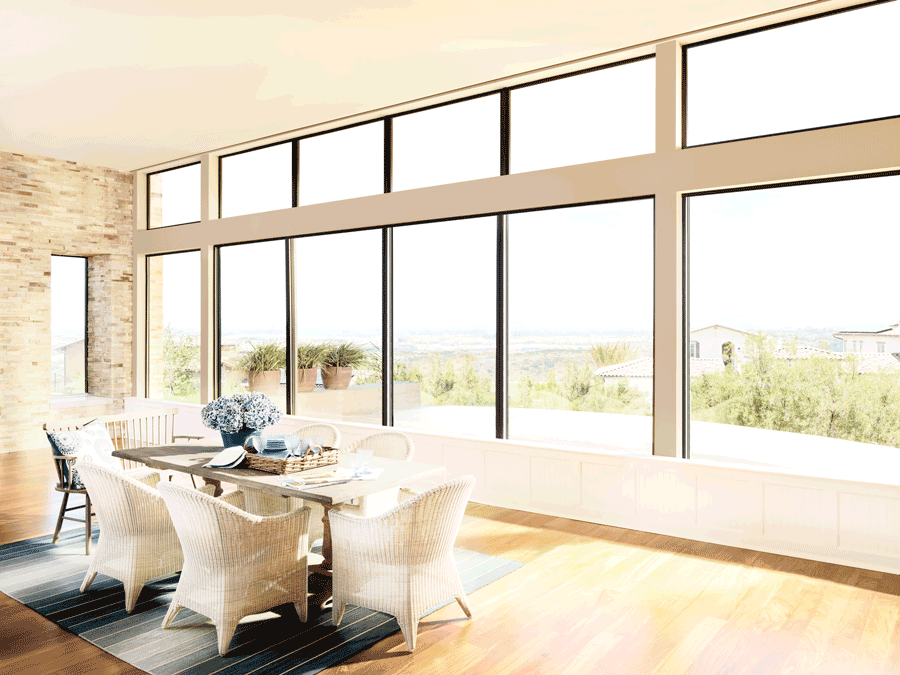 More Than Just Glare
Amongst the annoying glare, there are a few other problems in this room that come from how much light is pouring in. Sometimes, the glare may actually be the least of your worries! On those warm summer days, the heat will lead to a noticeable difference in the room where there's too much light. Even with your AC constantly running, it still isn't enough to cool it down. See that nice area rug on your floor? If you move it, you'll most likely find a large, rectangular mark where it used to lay. The sun's powerful rays are strong enough to fade your floors and walls. And, if you need one more reason to add new window coverings, talk about the lack of privacy that comes with those huge, open windows!
Window Treatments Here to Save the Day
We are passionate about helping you make the changes you need for your family to be comfortable, no matter the season or time of day.  As you can see by these images, adding shades completely transformed this space from a room the family avoids all day long, to a cozy and welcoming space.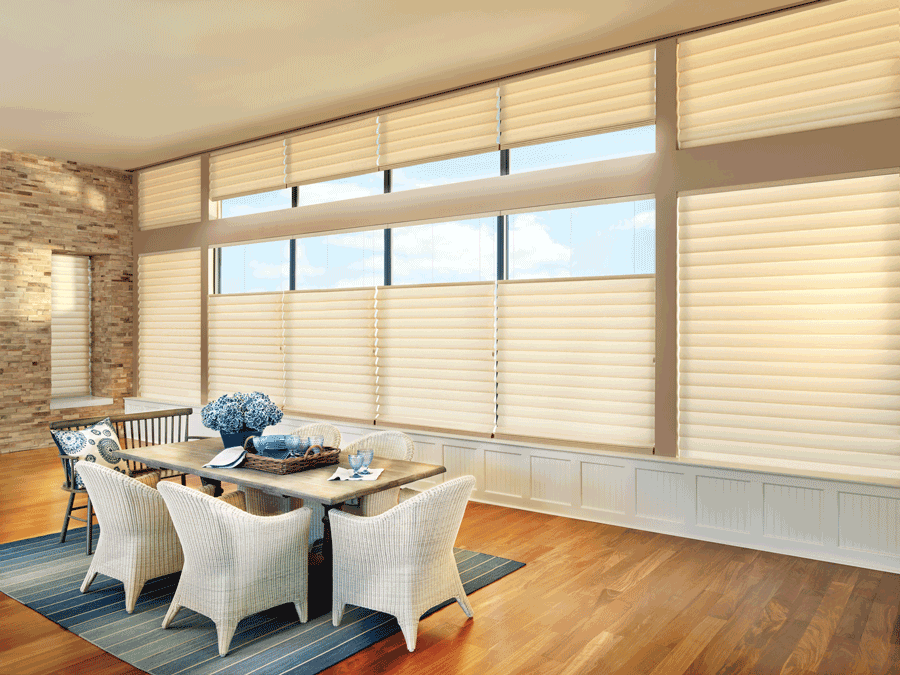 Let's start by pointing out–all of the glare issues are gone! This room now looks and feels like the perfect place to relax on the weekends and kick your feet up after a long day. Notice too, it's not dark in here. Many people think that to keep the heat out, and rid the glare, they need blackout curtains. That's not the case! With the right window treatments, we can eliminate your light control issues without making you feel like you're in a cave. Follow along for some more of the amazing features that come with your new window coverings…
Top Down Bottom Up 
Want to have your cake and eat it too? Top down shades are the ones for you! These homeowners now get the perfect amount of light coming in toward the ceiling without adding all the extra heat to the room. Plus, they get to enjoy the beautiful view, have a desirable level of privacy, and even save some money on their electric bill. Sounds amazing, right? 
Must-Have Motorization
Say you have your hands full of coffee, your computer, and a cozy blanket. You're heading to your living room to do a little work this morning. Your hands are overflowing and you can't rid the glare by closing the shades. But, if you have your motorized shades, you can close them with a simple voice command to Siri or Alexa. That way when you enter the room, you have the perfect environment to get a few things done.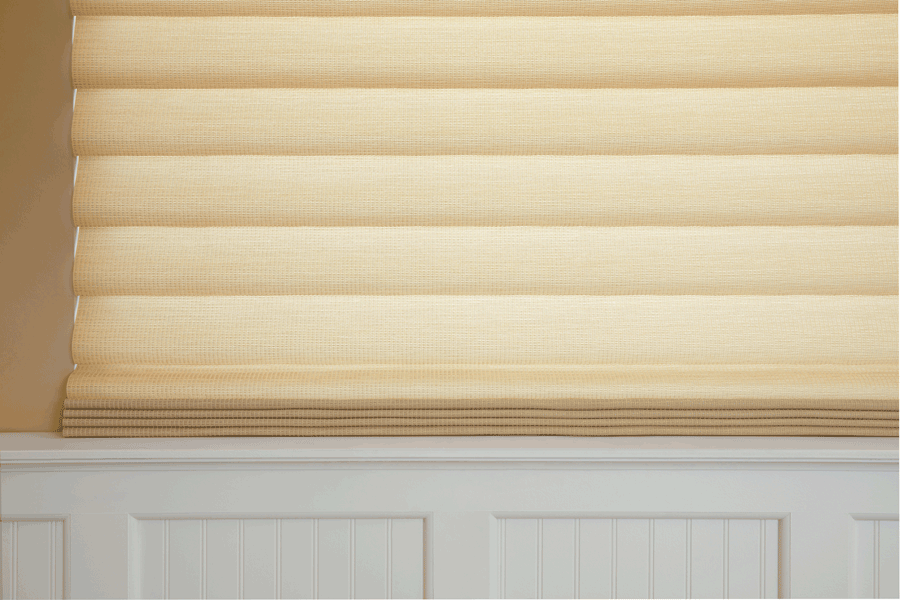 Customize Your Window Treatments
Perhaps one of the best features of our window treatments is that you have complete control over style and functionality. Roller shades, sheer shades or plantation shutters would have both worked very well to rid the glare issues in this room. But, the homeowners felt that our Vignette Modern Roman Shades were more their style. Isn't it great that they had that choice? Their clean, classic styling, in addition to the energy efficiency benefits, is exactly what they needed in their home for their family.
The Skyline Window Coverings team would love to help you find the perfect solution that fits your home and lifestyle. Contact us today for your free, in-home consultation to get started on transforming your space.