We love our furry friends! They greet us at the door, wake us up with slobbery kisses and are always up for a belly scratch. While living with pets has it's benefits, they can also be a pain. When it comes to window coverings + pets, we know the challenges. Let's explore some of the choices you can make to add ease, convenience and safety to your home…
Stay Clean
Pets are notorious for challenging the concept of a clean home. Tufts of fur travel across the floor. Paw prints can be found tracking dirt in. Your window treatments, at the windows and doors, run the risk of getting messy. We can't guarantee that Fluffy will wipe their paws at the door, but we can help you find window covering materials that are considered easier to clean–or ones that even repel pet hair.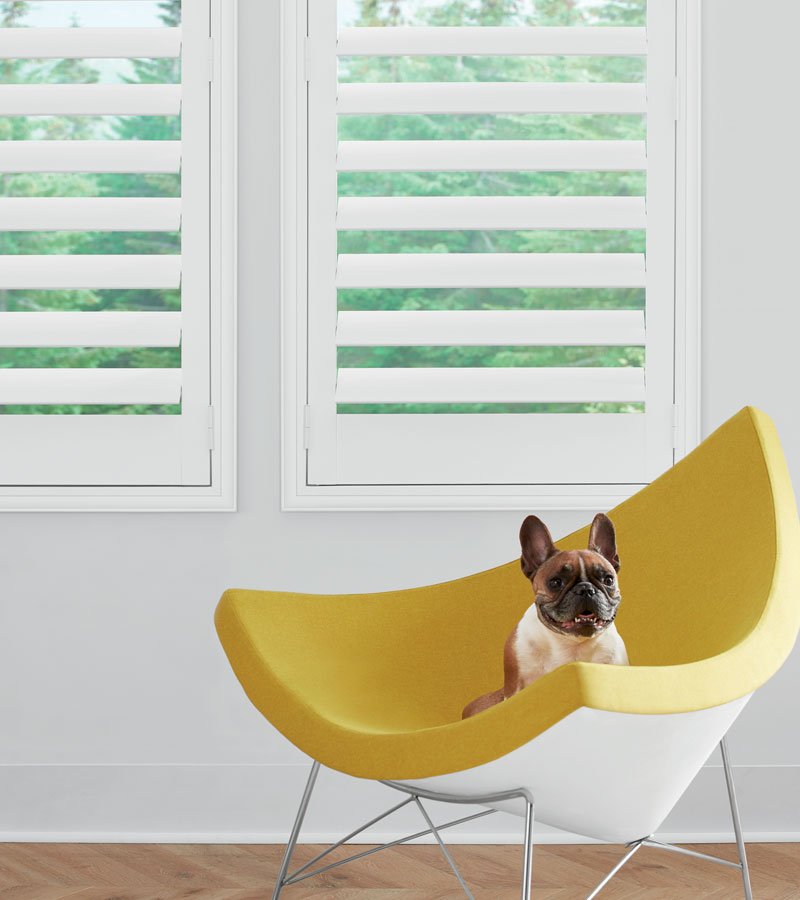 Safety First!
Pets are bound to get into mix-ups over the years. They eat things they're not supposed to, get stuck in spots (where they shouldn't be in the first place,) and make messes that have you rolling your eyes. When it comes to window covering cords, there is a risk of injury. Getting mixed up in a mess of cords is no joke. We have cordless blinds and shades, as well as a range of cord-safe operating features to introduce you to.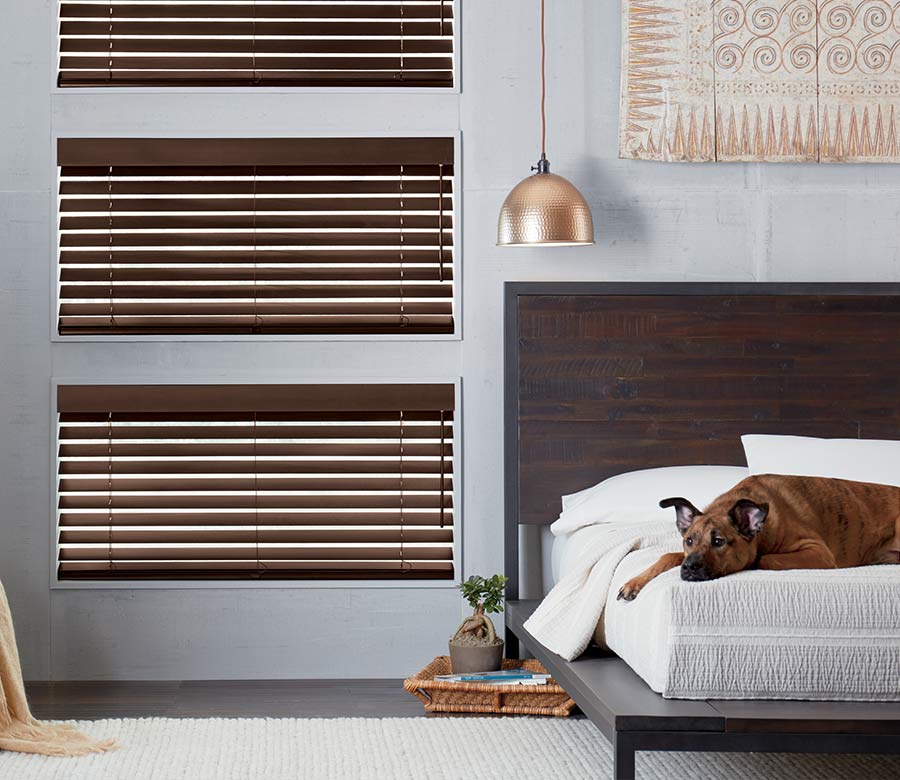 Speaking of Mischief…
The people who regularly find themselves saying, "THIS is why we can't have nice things," are most likely parents or pet owners. We know those cute fluff-balls out there are capable of destruction, and when it comes to window coverings, you can't risk it. Like your furnishings, window treatments are an investment, and you want them to stay looking nice and working properly as long as possible. Our team is dedicated to helping you find shades, blinds, shutters and drapery that work for your whole family. That includes the furry ones. And, we can help you identify ones that will work best with your pet's quirky habits.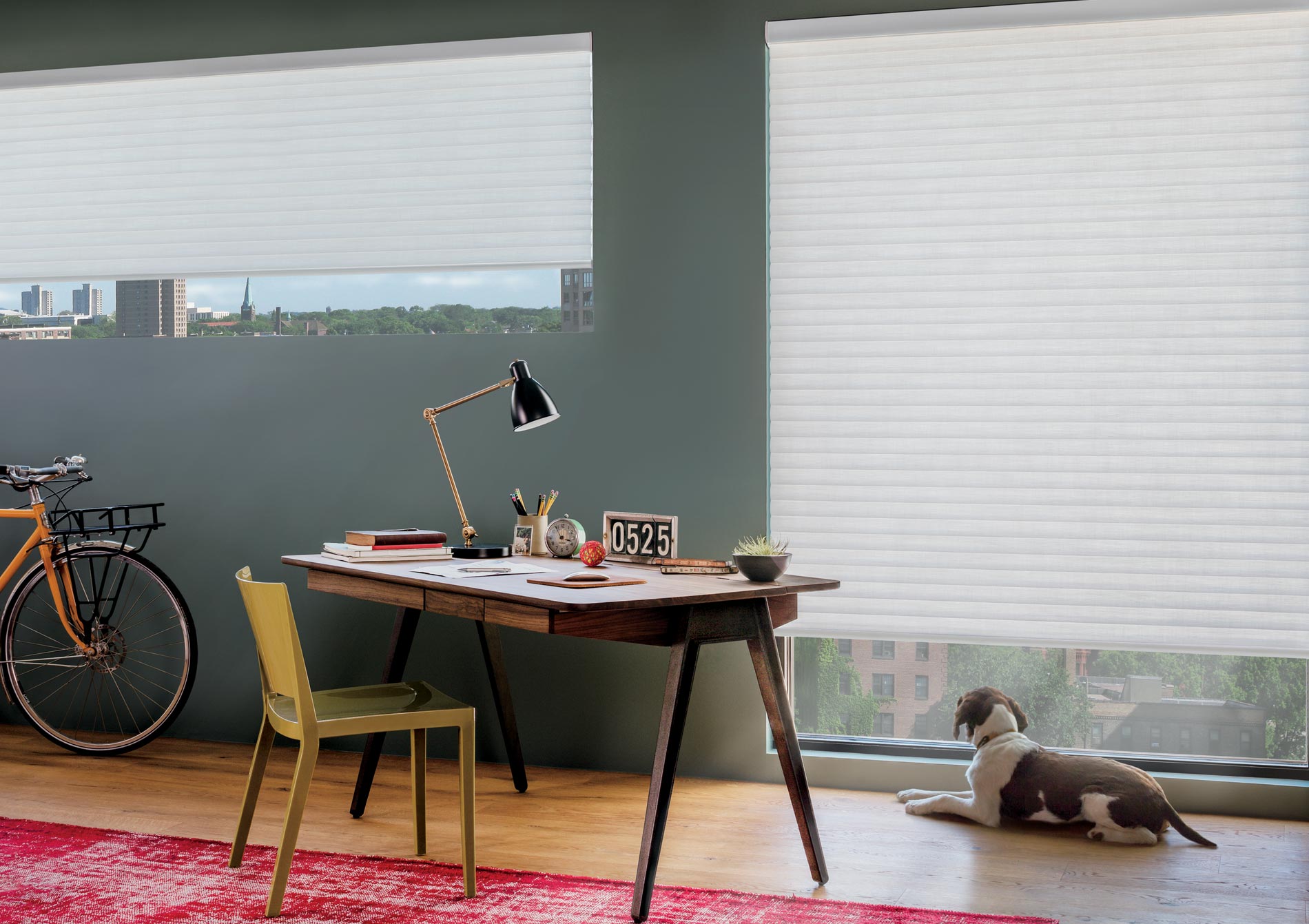 Privacy…Or a View?
Do your pets pass the day away by staring out the window? We know window coverings can get in the way of that. But, we also know that pets are creatures of habit. Smart shades are a great way to make everyone happy. With remote control blinds, you can save favorites, which means that your window treatments will adjust to the ideal position for Rover to stare out the window while the kids walk by after school. The custom settings and scheduled adjustments will be the best friend of your best friend, while the rest of your home is kept private and free of direct light and UV rays.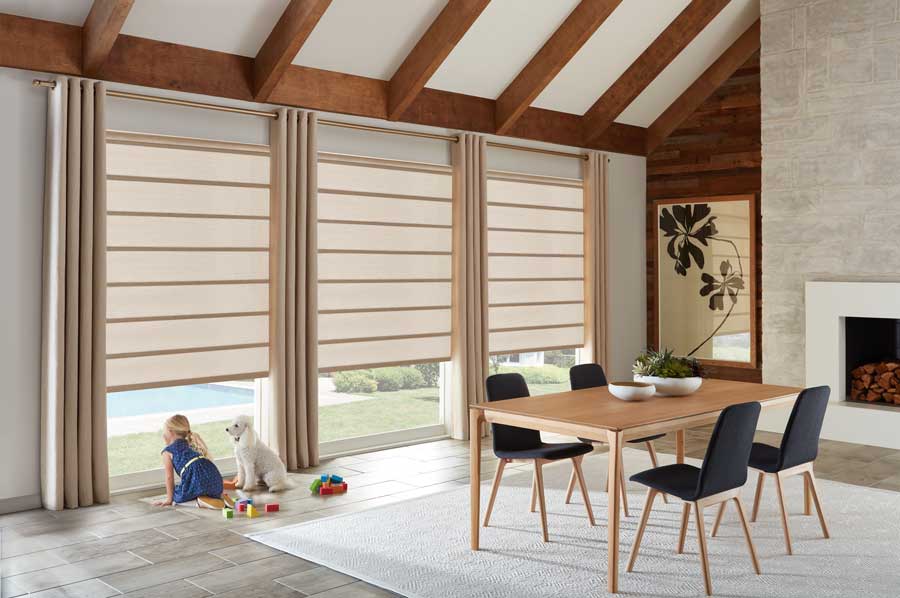 Make Living with Pets Better…
You want your pets and your window treatments to live in peace. Our team of experts at Skyline Window Coverings would love to help you find the right window coverings for your home. Make living with pets easier, more convenient & safer. Get in touch with us for your FREE in-home appointment.