When you venture off on a vacation, where do you love to go? Do you find yourself heading to ocean waves, lushly green forests, or the heights of a grand mountain? Maybe you love the action in bustling cities or the excitement of exploring far-off lands. Your favorite destination is more than just a place to take in nature's beauty or new experiences; it's an escape from your daily stressors. It's a place where you can completely relax and find a sense of peace. Now, imagine that in your home. Experiencing serenity in your very own rooms isn't just a dream. With the right elements of home design, it can be your reality…and your new favorite "staycation" spot!
A Glorious Great Room
When you're away on vacation, you expect the place you stay to be welcoming and comfortable. When you walk through the entrance to your hotel or B&B and glance over at the lounge space, you instantly get a feel for how your stay is going to be. Walking into an area that's got ample lighting along with cozy chairs and couches arranged to take in a beautiful view or the interesting artwork that's on display gives you a completely different impression than seeing a few scattered chairs in a dimly-lit and practically barren space. The same goes for your home. Whether you call it the Great Room, Living Room, or Family Room, your main gathering space holds the key to the whole mood and atmosphere of your home.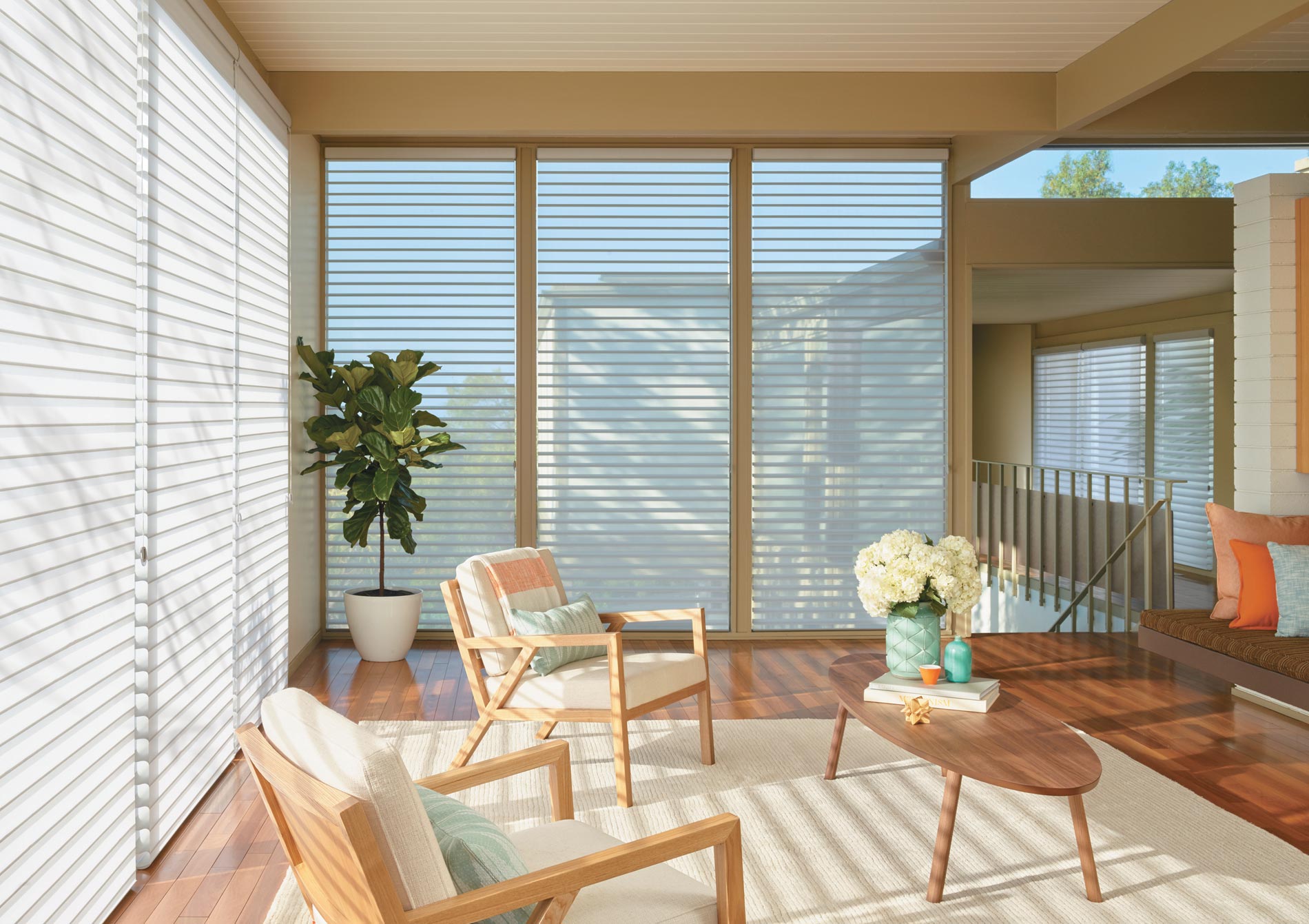 Important Elements: If you want your home to boast a welcoming and comfortable vibe, your Great Room needs to be welcoming and comfortable. How can you ensure that it is? Start with seating. Since the main function of the space is for gathering, having ample places to sit together is a must. Conversational seating is immensely popular these days because it focuses on arranging seating to promote both comfort and interaction. Give it a try!
Lighting is another huge consideration. The right atmosphere depends on proper light control, so dressing your windows with window coverings that offer the solutions you need will make all the difference in the look and feel of your home design. And, motorized shadings will add an element of ease. Touch-of-a-button or custom-scheduled control gives you immediate access to the perfect amount of light, privacy, and view.
A Bedroom Sanctuary
There's nothing better than playing hard and sleeping in while you're on vacation. It's always an amazing feeling to come back to your room after a day of adventure, put your feet up, and unwind before drifting off to dreamland and waking up whenever you want–rested and ready to do it all again. It's like starting and ending your day in a beautiful sanctuary of comfort and peace. But, you don't have to go away to experience the joy of relaxing and sleeping well. Your bedroom at home can be your own personal haven.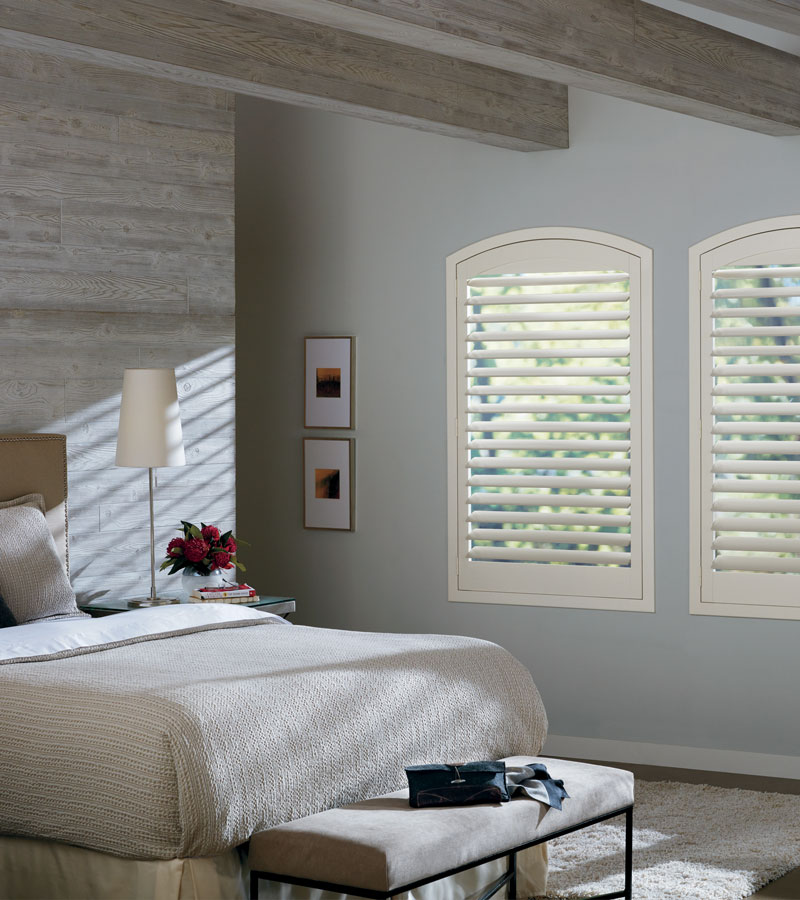 Important Elements: When considering the elements of home design that will make your bedroom a glorious place to rest, imagine your favorite home-away-from-home. What made it a soothing space for snoozing? Most people put plush bedding, calming colors, and privacy at the top of the list…just below room darkening! The ability to blackout the environment is a serious game-changer. Window treatments can create the dark environment that's ideal for sleep. When you want privacy, window coverings can help there, as well. Whether choose the ease of adjustable louvers, or top down shades, comfort is at your fingertips. It's time to bring in a new duvet, paint your walls a soft color–maybe even white–and reach out to us for incredible window covering options. Then glory in the fact that your own bedroom is one where sleep comes easy!
An Inviting Dining Room
If you stop and think about a favorite vacation, what comes to mind? You might remember something you saw or did, but chances are the truly cherished parts revolve around the people you were with. A beautiful home design includes elements that help you invite the ones you love the most to share life with you. Your dining room is a prime spot for this. Encouraging conversation, laughter, and true connection over a delicious dinner with your family or a huge spread at a dinner party takes more than just gathering everyone together. Keeping everyone comfortable is essential too!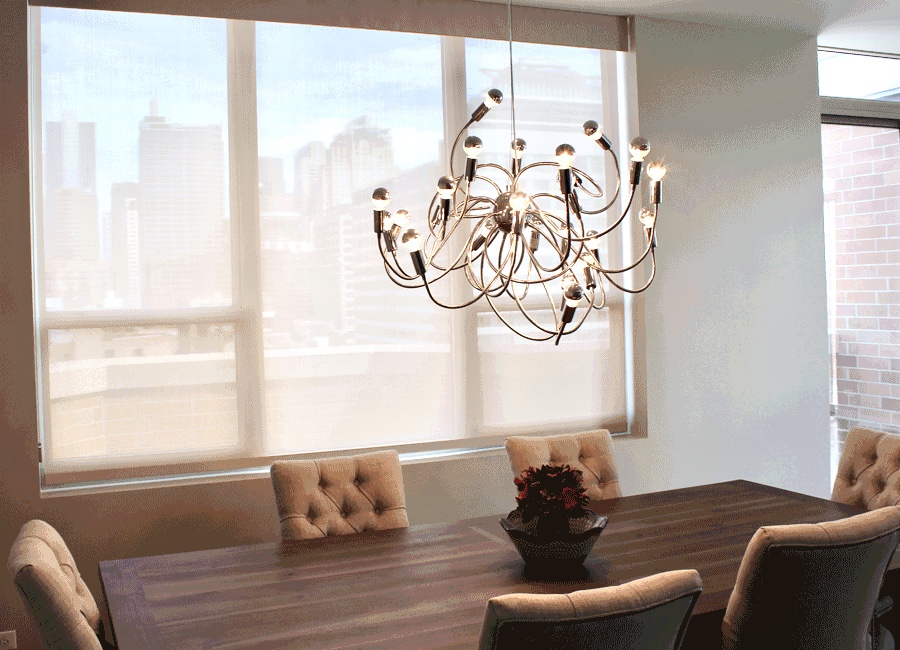 Important Elements: Lighting is everything when it comes to your dining room. Too much or not enough light, irritating glare, and blinding direct sun are sure ways to chase everyone and their enjoyment away. Chatter, drinks, and fun will flow so much more easily in a space that's illuminated with a comfortable glow. Dimmable lights can help you customize the lighting, and so can a chandelier or pendants that draw on your personal style. And have you seen our options for window coverings that transform harsh light into a soft glow? They're incredible! Silhouettes and Pirouettes allow you to enjoy a filtered view-through, Plantation Shutters offer timeless charm, and we'd love to show you what's possible in any number of our other collections of blinds, shades, and shutters.
Home Design: It's Truly Up To You
Your home is uniquely yours, and all of your home design elements should speak to who you are and what you love. When you stay away from home on vacation, you're subject to the whims and fancies of someone else's tastes and ideas. The best part about unlocking your home's staycation potential is that you get to make it exactly what you want. You choose the textures, fabrics, and colors that tug on your heartstrings and captivate your eyes.
And, we'd love to help. Our design experts at Skyline Window Coverings can show you all that's possible for achieving beautiful style and tremendous function. Contact our team today to schedule your free, in-home consultation.
When you're away on vacation, you expect the place you stay to be welcoming and comfortable. When you walk through the entrance to your hotel or B&B and glance over at the lounge space, you instantly get a feel for how your stay is going to be.