Beauty. Character. Function. Whether they lead to another room in your home or outside, French doors add a special touch to home design. But, how exactly do you cover your French doors without compromising everything they offer, like natural sunlight or your outdoor view? Our stylish clients have the answer. Get inspired by our clients' French door shades, blinds, and plantation shutters.
Coordinating Style
This client wanted their French door shades to coordinate with the rest of their window coverings. Creating a uniform, clean look was the main goal for this design. Along with finding a specific style for this home, our client wanted to keep their gorgeous view.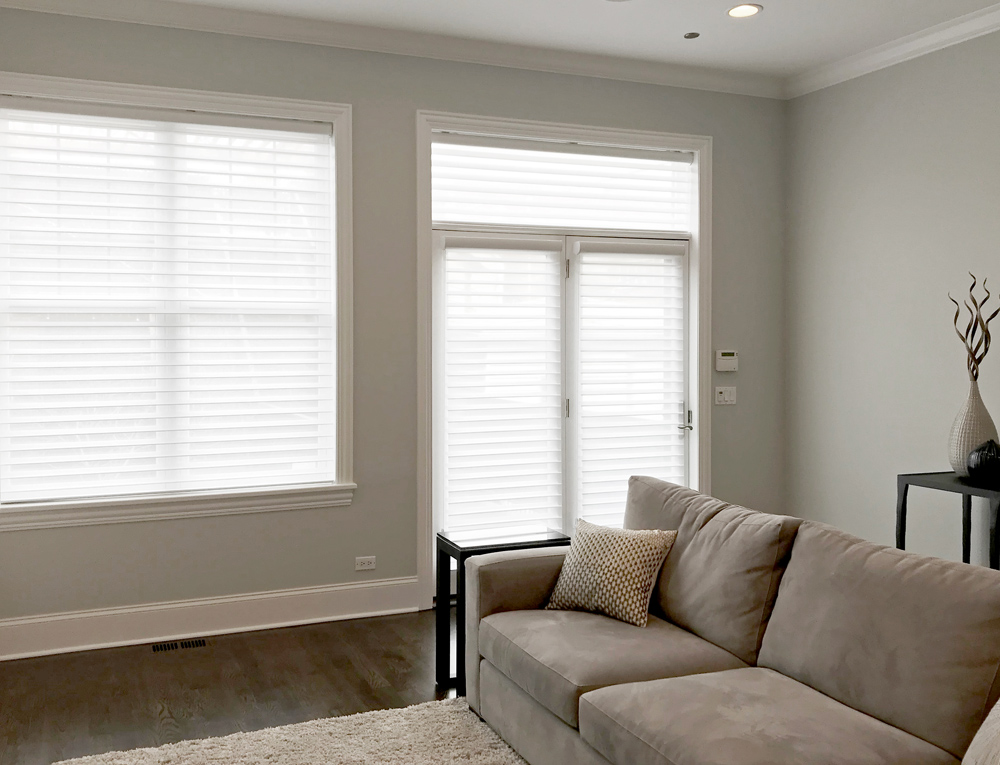 These Nantucket shades allow for maximum view-through. They also filter the incoming light, diffusing glare and illuminating the space with daylight.
Classic Design Meets Incredible Function
For this project, we wanted a design that would never go out of style, but would bring function and control into this space. Shutters are great for French doors or glass doors because they allow for control over light and privacy.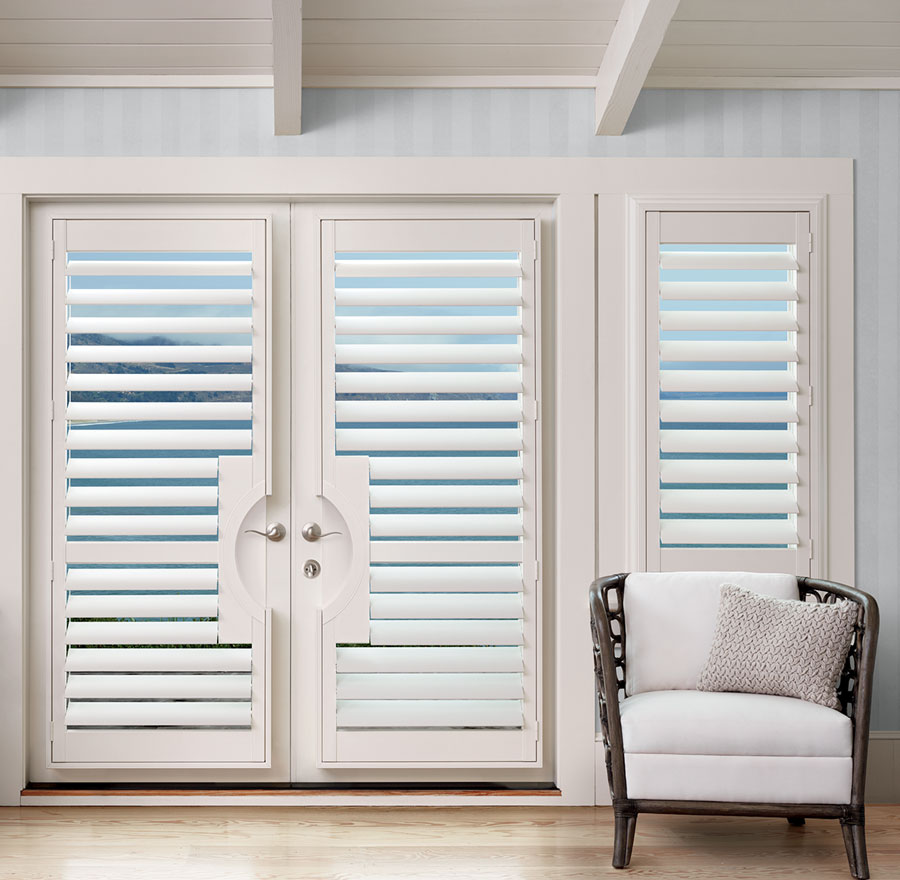 A simple shift of the louvers will direct the light in whichever direction you choose. The hidden tilt opens and closes the shutters depending on desired level of privacy. They're durable, too, which is great for high-traffic areas. All of our shutters are custom made to fit your windows and doors perfectly–just take a look at the door handle cutout.
Privacy & Lighting Solutions
Our client wanted French door shades that would control the incoming light and allow for privacy on their busy street. These French doors are surrounded by windows of all different shapes and sizes, which made Duette Honeycomb shades the perfect option since they are customizable to fit specialty shaped windows.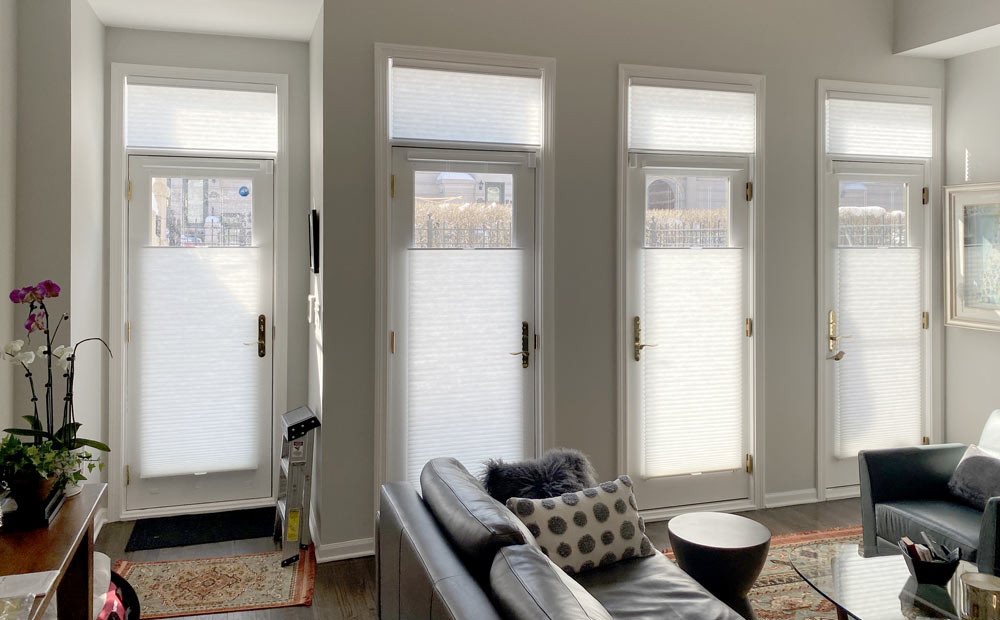 They're also available in top down bottom up, like the shades featured here. This allows the homeowner to bring light in through the top for daylighting. The rest of the shade blocks off the harsh UV rays and also offers privacy protection. Plus, Honeycombs insulate your windows for energy efficiency.
Drapes for French Doors
This client wanted to coordinate with the style of their home, enhancing the height of the ceiling with drapes hung above the french doors.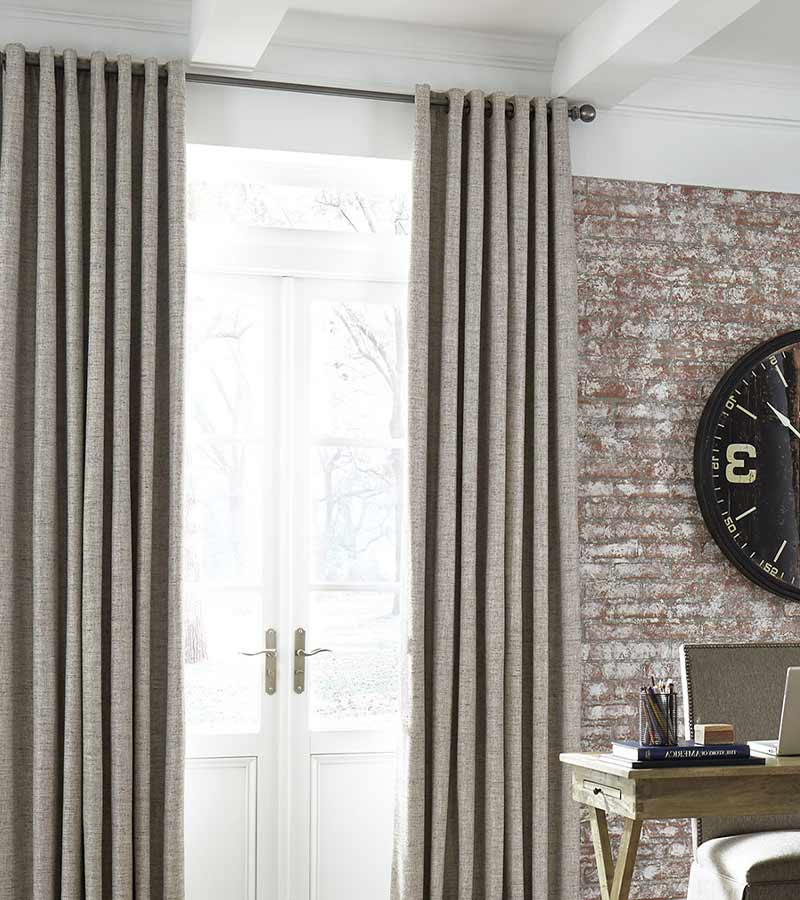 French Doors in Bedrooms
When french doors are in the bedroom, you really want to focus on options that will help with the darkening of the space. This client wanted to ensure that light was blocked to keep sun away from anyone who might be trying to sleep, but allow light to enter across the ceiling with the transoms. These honeycomb shades block the light, heat and outside views into this space.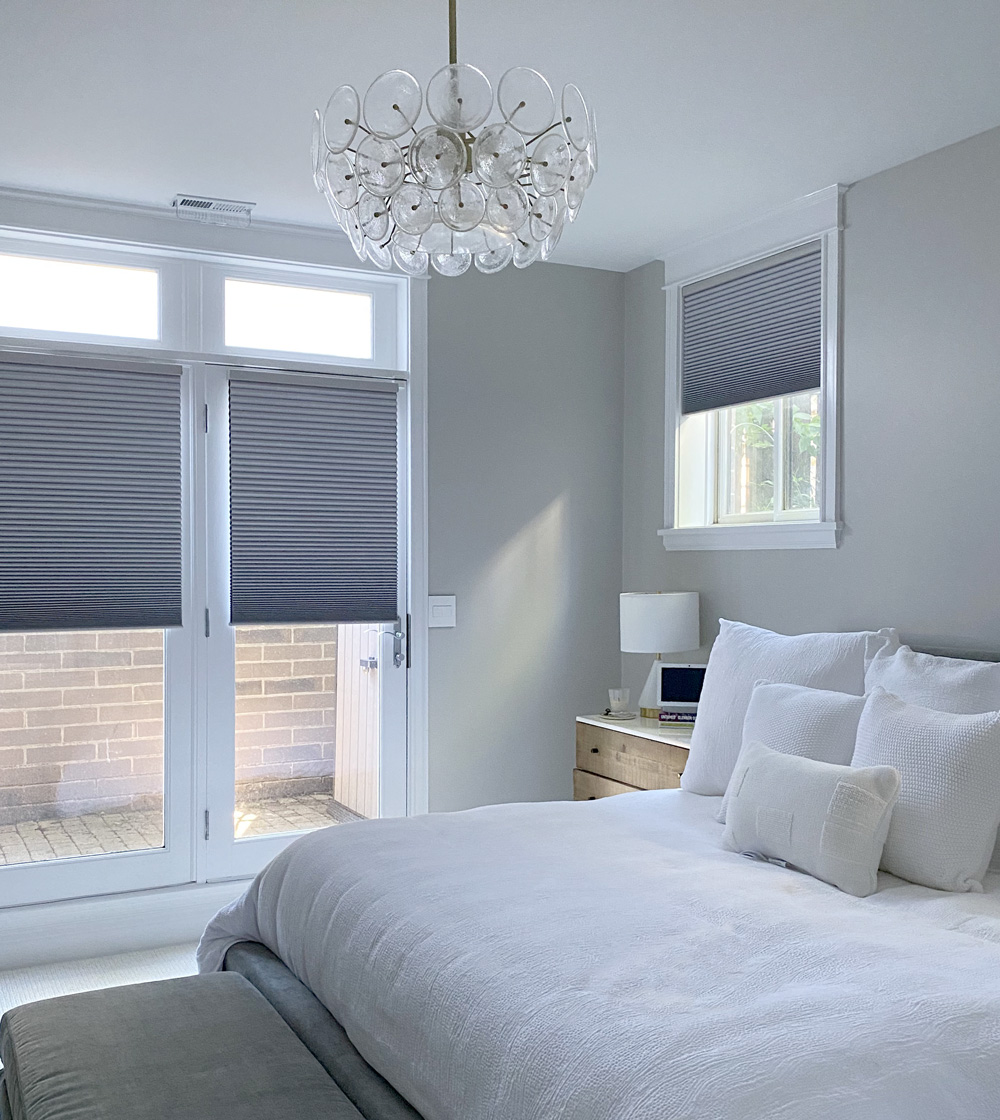 But, if you want to create room darkening with your french doors, it's possible! With french door shades, you will most likely have a light "halo" along the edges of the shade during peak daytime hours.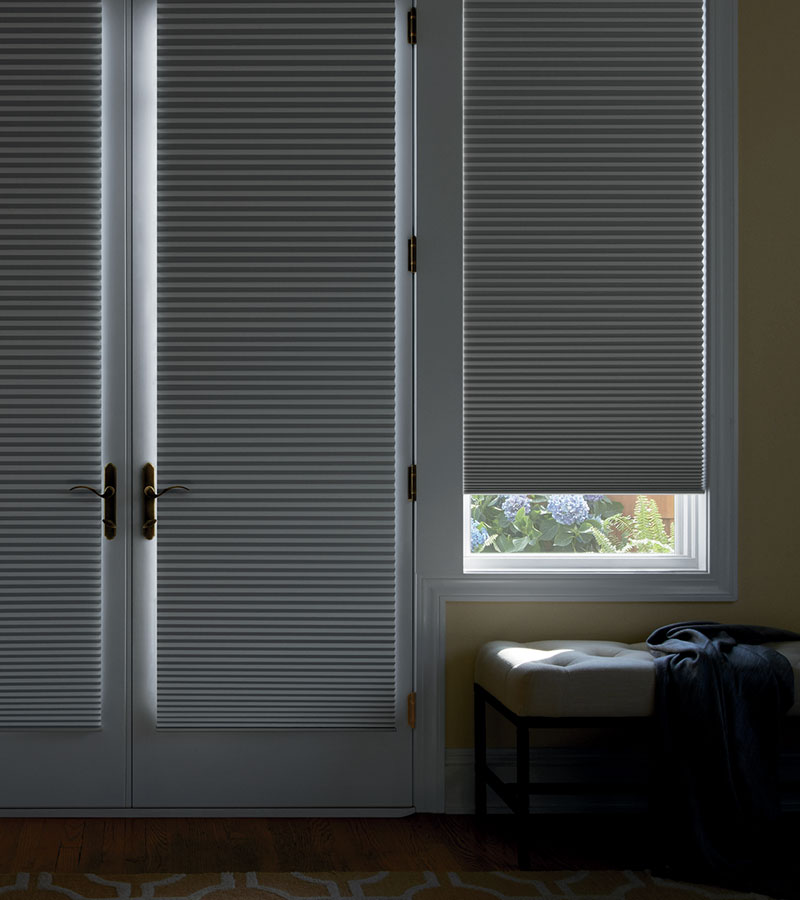 Tailored to Fit
Plantation shutters are a dynamic way to cover french doors, since they can feature door handle cut-outs and adjustable louvers that block the light. You can also customize them with split tilt, which is similar to the top down feature, so light can enter, but privacy is maintained.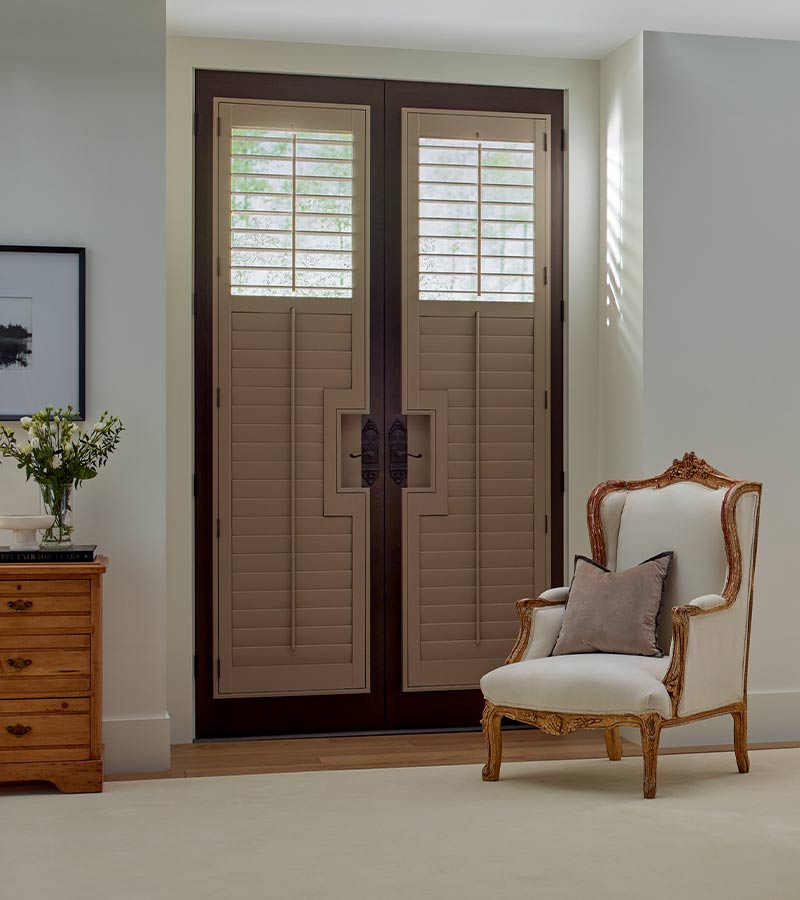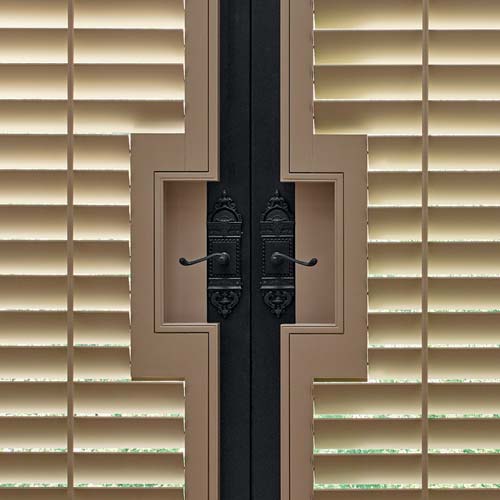 Simple & Traditional
Searching for something simple to cover your doors? Look no further than traditional blinds. Choose from horizontal or vertical designs–it all depends on your personal preference.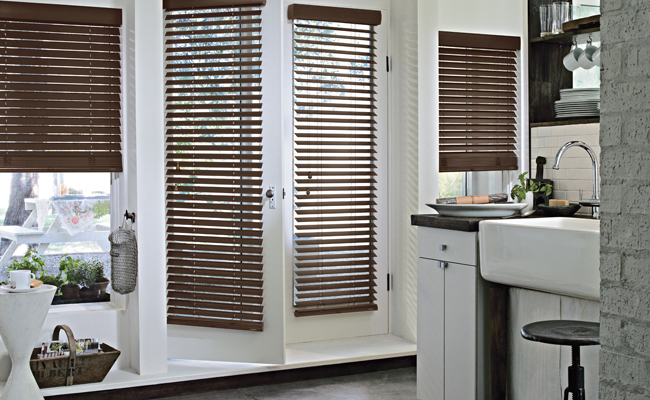 With so many paints, stains, and fabrics to choose from, your French door blinds will complement the design of your home. Control the light and privacy using your choice of operating system, like a wand, cord, or motorization. The options are endless for your French doors.
French Door Shades, Blinds, and Shutters for Your Home
Are you looking for style or function? You can have both with your French doors shades, blinds, or shutters. Gain control over your atmosphere and privacy while incorporating a design that shows off your style. Our professional designers can help you find window treatments that fit your home & lifestyle. Contact our team at Skyline Window Coverings for a free, in-home consultation.