Are you thinking about decorating with metals? The latest trends are bringing in mixed metals for high contrast, statement-making metallic finishes for dramatic design, and artisanal techniques for timeless nostalgia. We just love how easy it is to incorporate metallics–simple steps for instant style. It all depends on what you like. You can start small by adding metallic accent pieces around your home for a subtle statement. When you find pieces you love, you'll begin to notice how decorating with metals can freshen up your whole space. Take a look at how you can incorporate gorgeous metals, like brass, rose gold, copper, and more into your home design.
The Industrial Design
We love the modern look of industrial design. Decorating with metals is a great way to create this look, even if your home doesn't have an industrial feel to it. One great area of your home to incorporate metals into is your kitchen. Take a look at the metallic backsplash, the light pendant over the island, and the small details placed around the kitchen, like the bar stool or decor on top of the cabinets. Combined, they create a fun, industrial design that's also warm & welcoming. If you're thinking about decorating with metals, start with smaller elements. Look for accent pieces, new drawer pulls, or a table lamp to see how they influence the space.
The Chic Design
 If you think that decorating with metals will make your design less chic, think again. Rose-gold has taken over the design world, and for great reason! The dramatic look of shiny, rose hues will take your home design to the next level. If you love chic looks, go for rose gold. Add accent pieces, like the pendant lights shown here, and incorporate pink tones for a classy, stylish design. The smallest touch will make a big difference. Copper is another trending metal–we think of it as the edgier version of rose gold. It adds character and color to your home with sleek styling in mind.
The Smart Design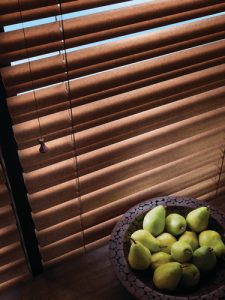 Decorating with metals can certainly make a style statement, but consider your overall atmosphere. What better way to gain style and environmental control than with window treatments? Our collection of Hunter Douglas Modern Precious Metals will incorporate the metal design that you're loving, and will also give you control over your privacy and light. Some of our newest shade fabrics bring in metallic decor by adding the glistening hints of metallic threads. It's a great way to start decorating with metals that will add instant style to the backdrop of your home. Window treatments are also an ideal solution when you're looking to protect your decor from harmful UV rays.
The Vintage Design
Who knew that decorating with metals could also be sophisticated and classic? There are so many ways to fit metallics into your design. Love the look of vintage? So do we. Search for decor that features mixed metallics on aged pieces for a vintage touch. Go for galvanized metals or antique brass for a retro & elegant design.
Decorating with Metals: What's Your Favorite?
Is it time for a new design in your home? Think about decorating with metals. There are so many styles you can use with metals, like modern, chic, and traditional. What's your style? If decorating with metals sounds like something you want to try, contact us. Our team at Skyline Window Coverings will give you design tips, show you gorgeous window treatments, and help with incorporating metals into your home. Let's get started!