Truly awe-inspiring, large windows can light up a space with style, atmosphere and a majestic view. Until you're living with them, day-in and day-out. Considering covering floor to ceiling windows in your home? We're not surprised. But–it doesn't mean you have to sacrifice what you love for what you hate. We are debunking the common misconceptions of covering floor to ceiling windows. Take a look…
That flowing natural light?
It's harsh–depending on the time of day, from direct rays to obnoxious glare. We don't experience constant sunshine, so when blue, sunny skies are available, you want to take advantage. But, you don't have to feel closed off from the world to get relief.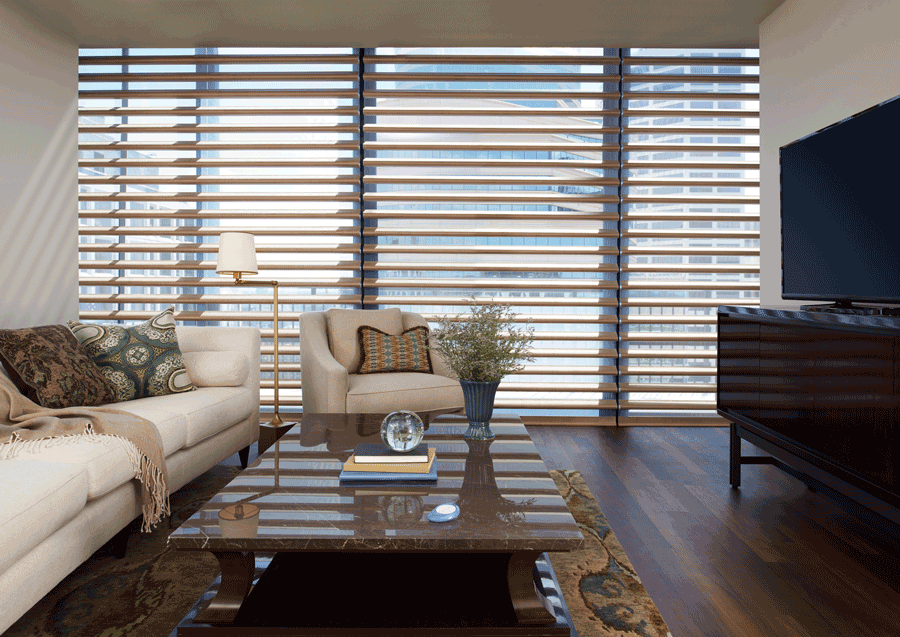 Find the ideal balance with an option that controls the light and glare, but doesn't make you feel like you live in a cave. When covering floor to ceiling windows, you can have your light and block it, too! But, being so big, are they hard to adjust? Not with motorized shades. One tap, and your smart shades jump into position.
Let's not get started on…
The seasonal changes. We get it. You want it cool in the summer and warm in the winter. This might be the top reason you are considering covering floor to ceiling windows in your home. Energy efficient shades will be your best friend. And, the top down bottom up shades feature is icing on the cake!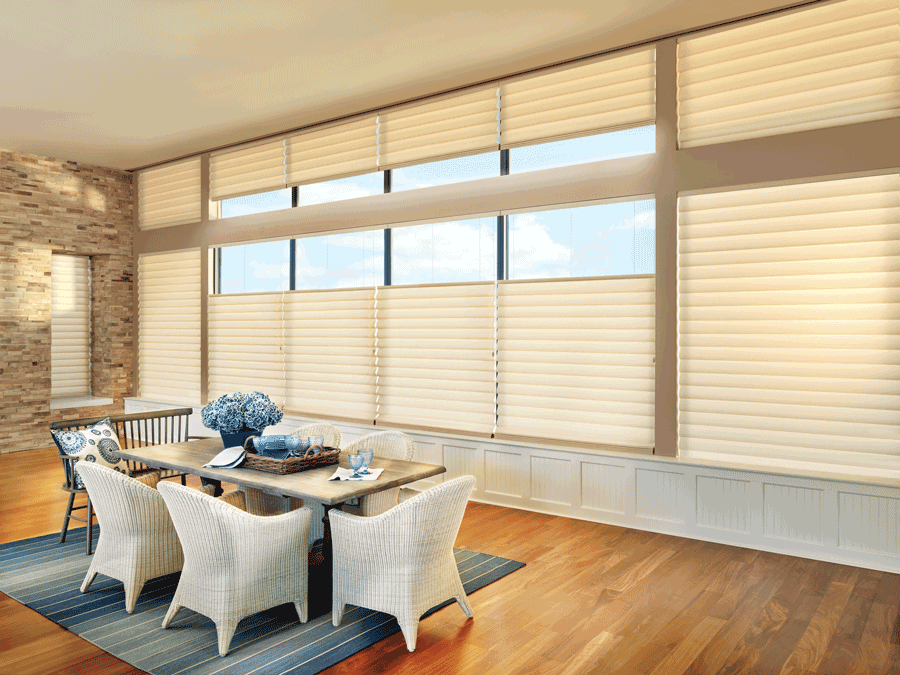 They'll easily cover those large windows so you can experience the comfort you need, year round. Do you know with our smart shades, you can save settings to integrate and respond to the temperature on your thermostat? It's the ultimate home luxury you'll wonder how you ever lived without. The good news? Motorized blinds are as affordable as ever.
Those gorgeous views?
You don't want to lose "sight" (See what we did there?) of what's important to you. That view is probably one of the reasons you bought your place! But, a view out is also a view in. I don't know about you, but as much as I love my neighbors, there's just times I want to keep to myself.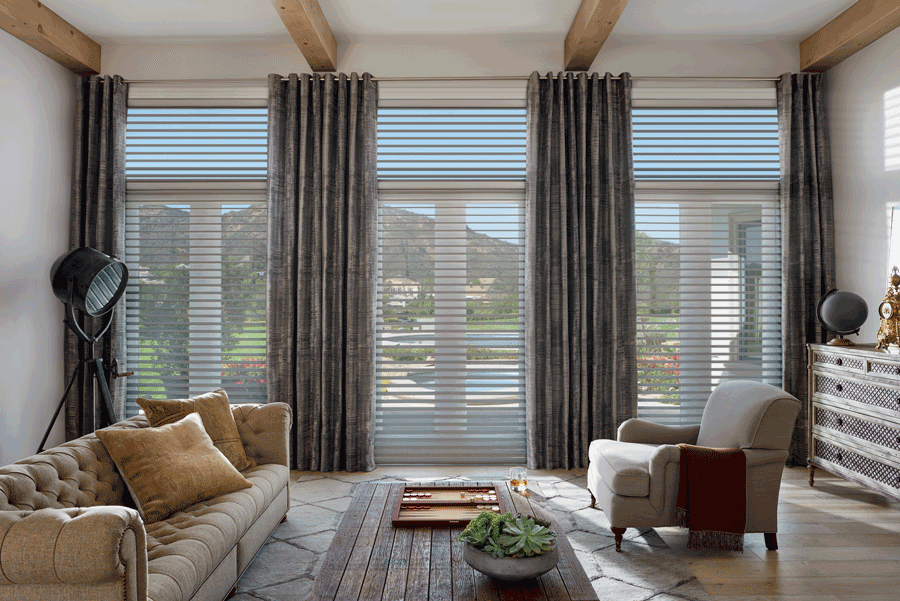 One example of a great way to take in the view, without revealing what you're having for dinner, is our sheer shades. You can view your landscape through sheers. During the day, they're reflective on the outside, so nobody is keeping watch over you. In the evening, you can either take in the sunset, or close the vanes for privacy.
The contemporary style?
Ok…you've got us there. Large windows are gorgeous. But, just wait. With an endless amount of designer fabrics and chic materials…you won't believe the gorgeous styling of floor to ceiling windows with window treatments. Gone are the days of ugly blinds. Today's shades–especially for your largest windows? They are nothing short of stunning.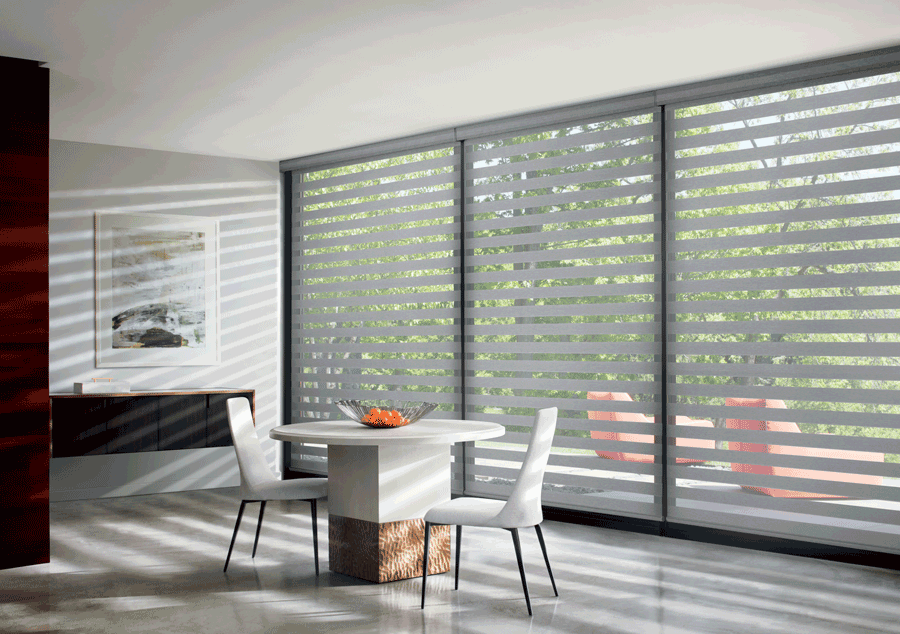 These banded shades are one of our newest designs that help you create a customized atmosphere for your home, regardless of the size of your windows. They also come in fun, geometric patterns. The best part is those bands are actually layer, so in one quick rotation, the front and back fabrics lineup to close off the view.
Considering Covering Floor to Ceiling Windows?
That's why it's so important for you to know your options! You may have a love/hate relationship with them, but we are here for you! Our designers, at Skyline Window Coverings, are experts when it comes to covering floor to ceiling windows! We know the ins and outs. We'll sit down with you and listen to your must-haves. And then, we'll help you with the solutions you need! Contact us today for your free, in-home consultation.