Your bedroom should be the sanctuary you deserve–the ideal balance of cozy and refined. Especially after the year we've had, right?!? Relaxing at home has taken on a whole new meaning. These bedroom design tips may be just what you need to transform this personal space of yours.
#1 Color Yourself Happy
ICYMI, we recently documented the 2021 Color of the Year, and it's all about the right combination. Again, it's not really whether you love yellow + gray. It's more about choosing a color that brings you happiness and pairing it with a favored neutral. Sometimes, a fresh coat of paint is all you need!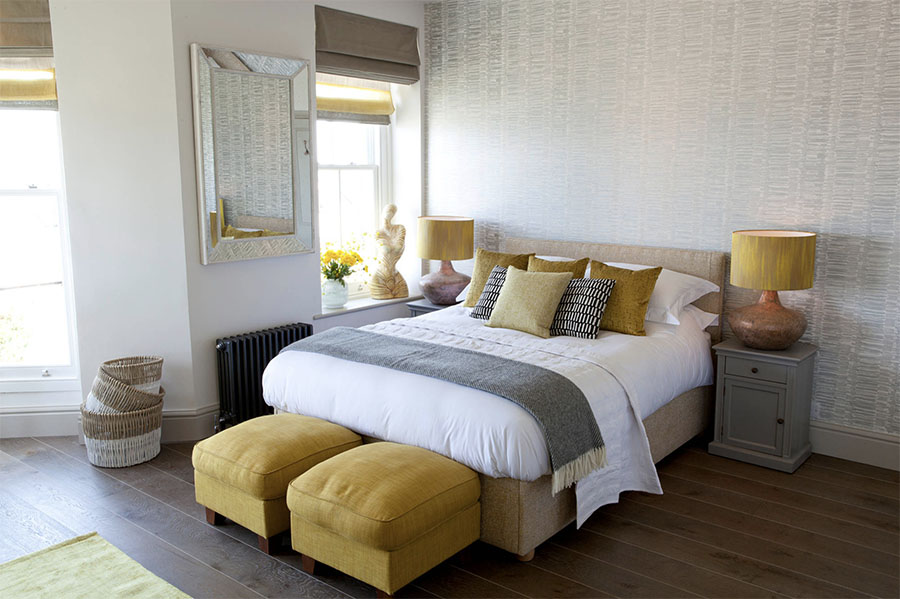 #2 Fabrics Convey Personality
Of course our bedroom design tips have to include personality. This is your own space. One that you should feel comfortable in, surrounded by elements you love. No one else's opinion matters, except maybe your significant other. And even then, if you're the design savvy one of the two, we say: Go for what you like. A great way to do this is with fabrics that speak to your personality and make you happy. Textures, colors, patterns–choose your happy and go with it!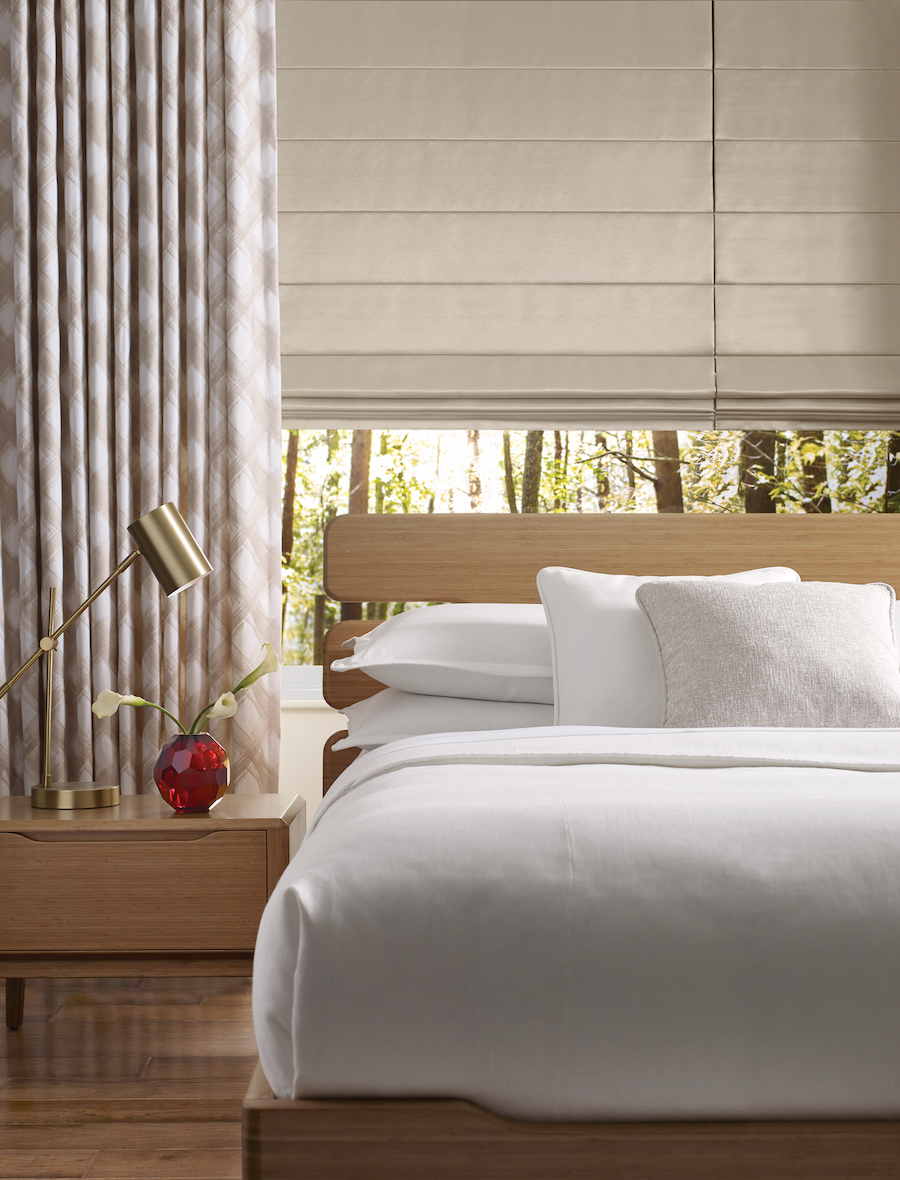 Window treatments, like fabric shades or draperies, are an ideal way to bring a creative look into your home. The colors and textures create a vibe that is customized for you. Another way is with the bedding and accent pillows. You can change up the whole space just by changing the fabrics.
#3 Get Comfortable
What does your bedroom "feel" like? How is the comfort level? Do you change the bedding to match seasonal temperatures? Do your pillows fit the way you sleep? There's never been a time for us to focus on home quite like now. Take the cozy to a whole new level.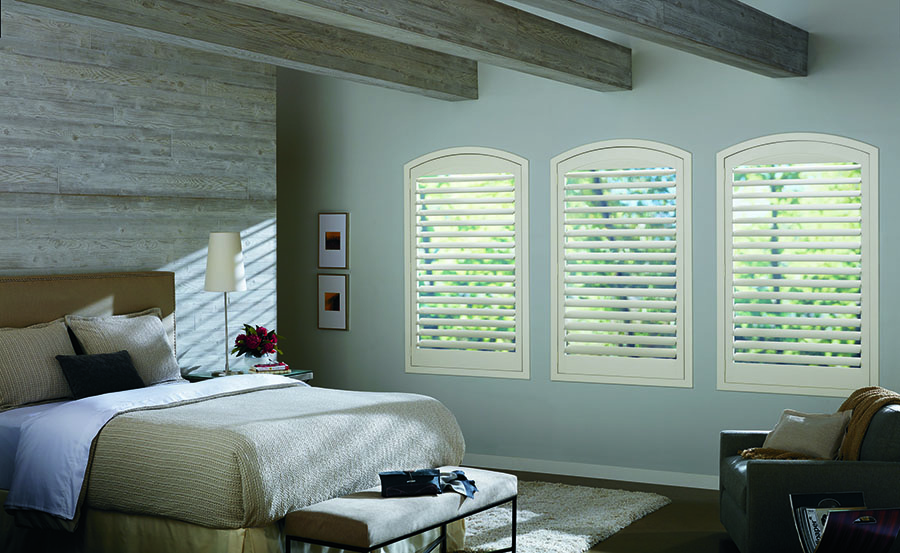 And, what about the atmosphere? Light, heat, outdoor weather…all of these elements play a role in your comfort. Has there ever been a space that needs a better suited environment than your bedroom? Probably not. This is where choosing the right window treatments comes in. 
#4 Clear the Clutter
Do you feel like your bedroom turns into a dumping ground for extra "stuff" that belongs to you– or your family? You're not alone! Many people go to bed feeling anxious and agitated, due to clutter that has piled up in spots. That's not to say you can't have decorations that you enjoy. It just needs to be intentional! Laundry baskets filled with your children's clothes are not the latest trend. And, while the laundry might still pile up, it's time to do your best to protect your sanctuary space. You'll feel better, sleep better and wake in a better mood.
#5 Enjoy Fresh Air
It's no secret that inviting real plants into your home can improve the air quality. But, they don't have to be just in the main living areas of your home. As part of our bedroom design tips, introducing plant life into your bedroom is a win-win.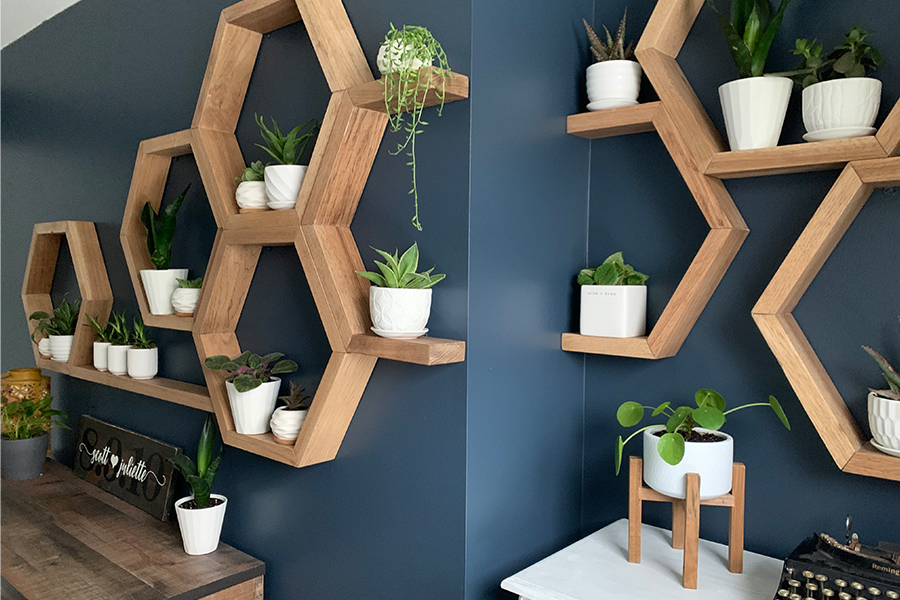 To begin with, this is where you sleep, often a third of your life is spent in this space. Why not refresh the air quality? And, because most people tend to "over love" their plants by watering them too often, the bedroom is a great spot to "set and forget" your plants. Trust us, they'll be happier for it. Furthermore, plants are an amazing way to incorporate unique style into your home!
Get Started with These Bedroom Design Tips…
Want to wake up refreshed and go to bed each night, knowing you're going to sleep well? We can help! Let our team help you decide how to create the perfect atmosphere in your bedroom with these bedroom design tips and beyond! You'll be glad you finally tackled this project! Contact us for your FREE consultation.