Minimalist design is a definite statement in home styling. Inspired by a clean appearance and the ease of less "clutter," it's a trending topic. In addition to the popularity of Marie Kondo's mission to help us all rid our lives of unnecessary belongings, there's a new book on stands. Houzz experts are leading the way with their review on this new read that highlights the best ways to achieve minimalism in our homes. At Skyline, we believe that window treatments not only provide light control and privacy, but they have a huge impact on the atmosphere of your home. By choosing the right ones, you'll be that much closer to a clutter-free life…  
Go Cordless
The dangling cords of old blinds not only present a safety issue, but they look incredibly messy. Due to the hazard they present, many homeowners tie them up and away from little hands and paws. But this also keeps you from experiencing the shift in lighting and views. Today's window treatments are geared toward minimalist design, removing the cords and safety concerns, while tidying up the look of the shades and blinds.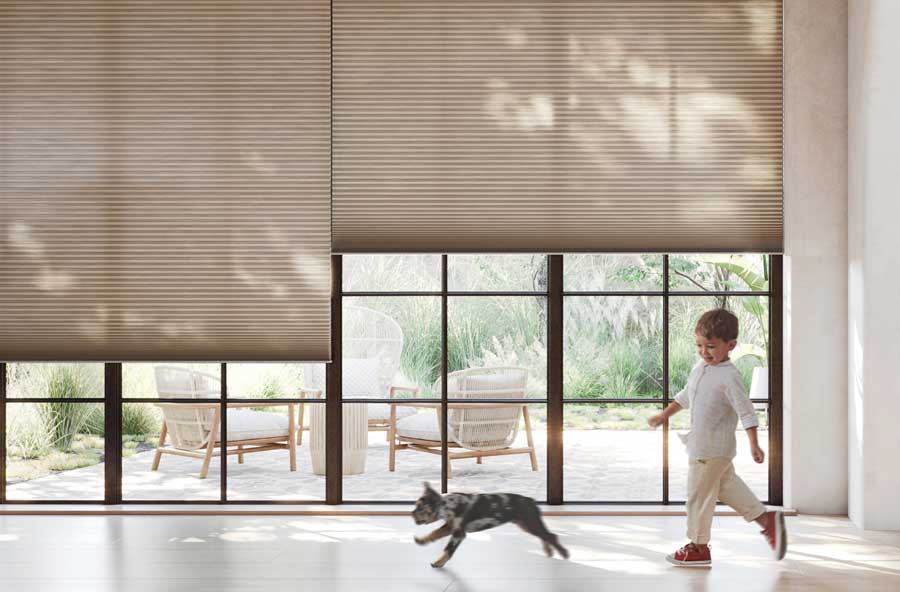 Blend the Color Scheme
When you hear the words, "minimalist design," does it make you think of a near-empty space? No art, no wall hangings, no window coverings? It might look great in pictures, but when it comes to a well-loved and lived-in home, you'll need more than that to make it feel like it's your own. The best way to achieve minimalism with added elements is to blend. Walls and window coverings can be color coordinated to add a seamless flow to your home. It's a unified design that will offer a clean looking backdrop.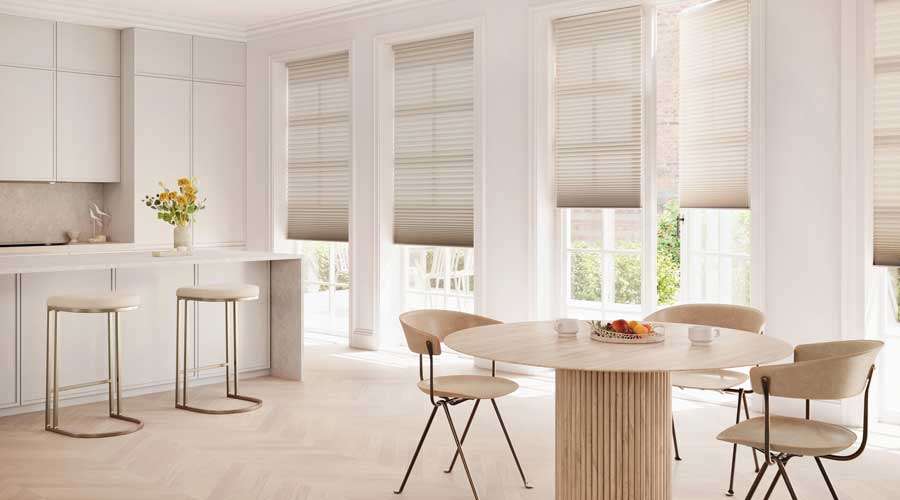 Roll It Up, Out of the Way
We've talked about removing the cords. We've highlighted the concept of blending the color scheme. Now, let's discuss what takes place when you want the natural light entering, or the view to be fully on display. Some window coverings can offer a minimal appearance when lowered, but then when raised, the impression is different. What you really should compare is rolling vs stacking.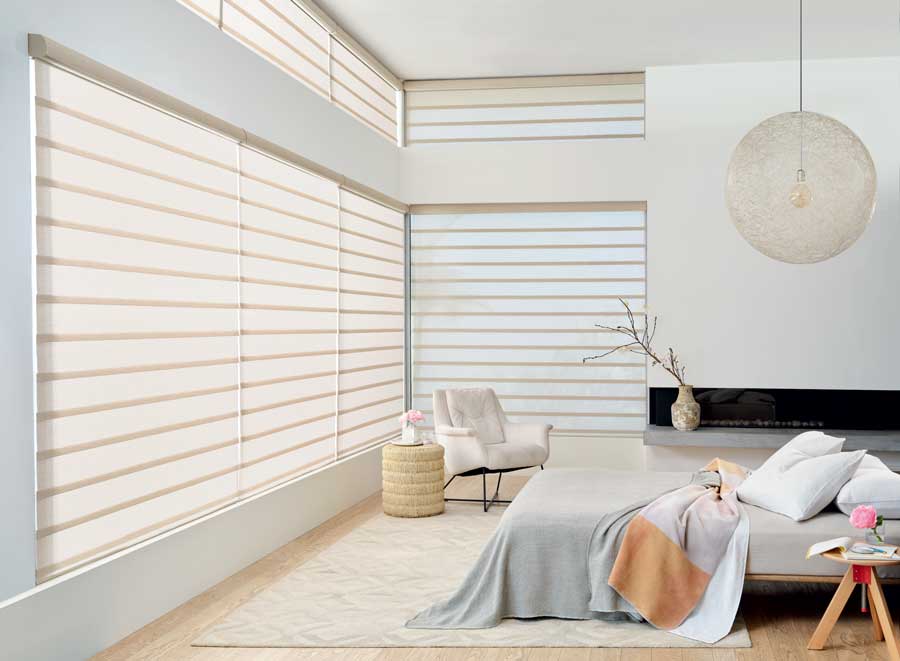 Window treatments that stack will gather the fabrics–sometimes in a tight profile, other times they are more gently folded. The stack is generally visible even when raised, causing you to see them. Rolling operation takes this look away, as the fabrics roll up into the headrail and disappear. Once only available as roller shades, now many types of window coverings can roll up and out of the way, including honeycomb shades, romans and woven shades. 
Power Up
One of the reasons everyone is loving the idea of minimalism is due to the feeling overwhelm that comes from too many tasks to remember and too much to do in our homes on a regular basis. When you minimize, you take away added stress. That's exactly why homeowners are loving the concept of smart shades. Adding power to your window treatments means you can access the perfect atmosphere in an instant. No muss, no fuss. Schedule the adjustments to improve your lifestyle. Enjoy your home more with saved favorites.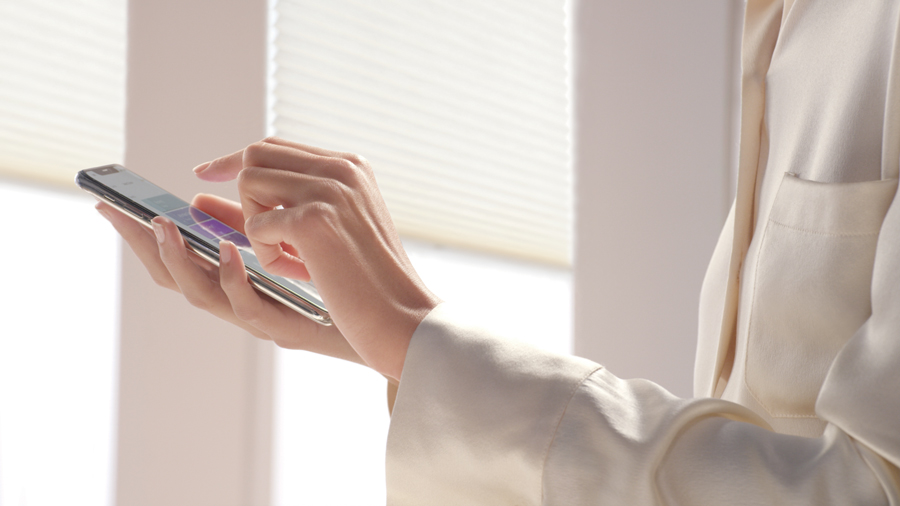 The Sleek Style of Minimalist Design
The good news is that today's window treatments are created to achieve an appealing look, no matter what style you prefer. But, the days of bulky window treatments are gone. Today's collections offer low profile design and operating features, enhancing the function and the look of your home.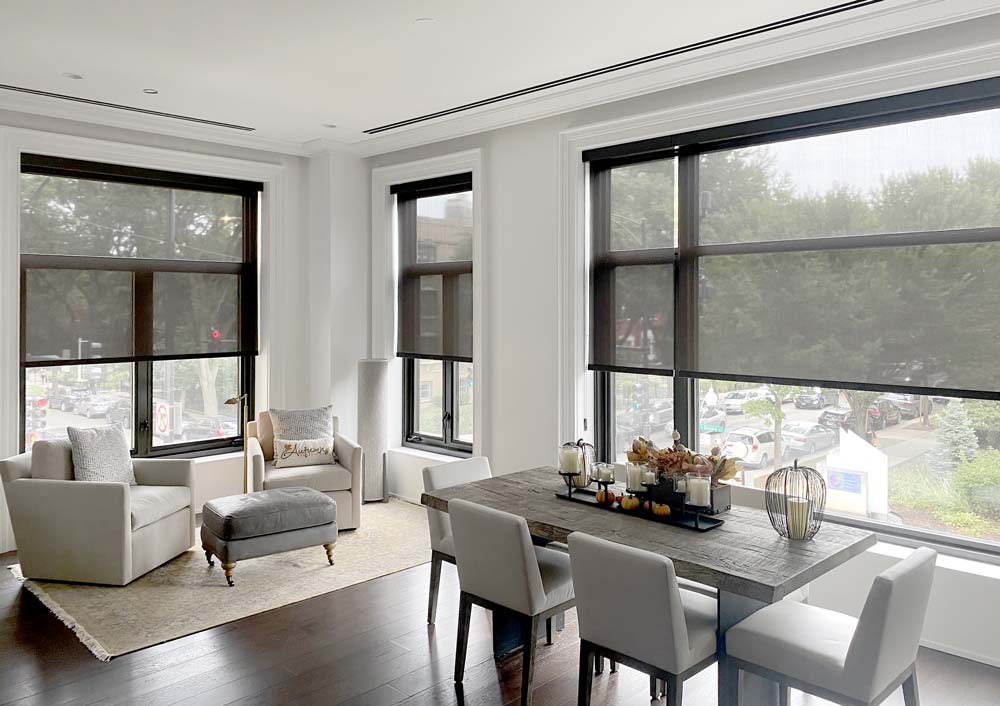 Our experts, at Skyline Window Coverings, would love to help you select the window coverings that best fit the form and function of your home. We'll guide you to the designs that you love, with your style preferences in mind. Stop by your area showroom to see everything up close and in person. Then, schedule a free in-home consultation. Get in touch today.